Long-time client CanvasOnDemand is always looking for new and innovative ways to drive revenue. The merchant was willing to experiment with performance-based campaigns and was eager to try out innovative tactics to acquire NEW customers.
The Challenge
Finding a large affiliate willing to run a two-week long test deal that offered customers a Flash Deal for CanvasOnDemand. Another was that a key metric for our client was "average order value" as many times flash sales convert at the lowest face value of the offer. CanvasOnDemand was wary that this would happen with a strong affiliate as it had with the normal flash sale site.
The Solution
Working with one of CanvasOnDemand's biggest affiliates (and the world's largest coupon affiliate) RetailMeNot.com, we quickly came to an agreement to run a test of this flash deal, without having a paid placement or a slotting fee, which eAccountable had tried in the past with other publishers with less than stellar results – low conversions and not cost effective for the client. RetailMeNot.com had run a similar test offer for another merchant and the test was successful, so they were eager to try it with our client.
How We Did It
RetailMeNot.com placed special ads for CanvasOnDemand that gave customers a special code for Free Shipping plus $67 off on all Photo Canvas purchases orders of $112 or more.  The offer was up and valid for 14 days. 
Here's what it looked like on the RetailMeNot page: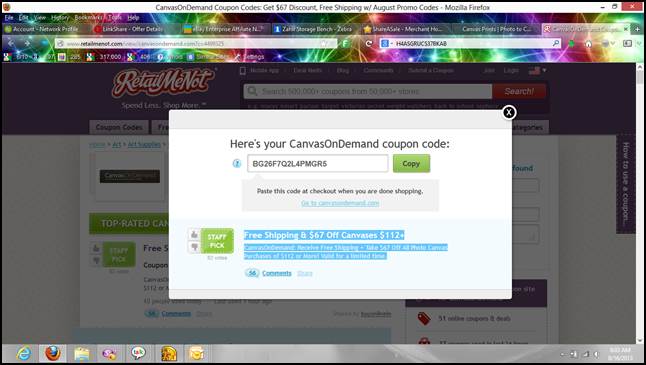 The Results
Both CanvasOnDemand and RetailMeNot considered the flash sale to be a huge success over the two weeks that the flash deal ran.
Most importantly, the average order size (AOS) for Canvas on Demand previously hovered around the offered/special price of roughly $45, but increased to $87 during this latest flash deal with RetailMeNot.
CanvasOnDemand is now willing to try this type of flash deal with some of its other large affiliates.
RetailMeNot.com is also eager to implement this type of flash deal with other eAccountable clients.
Why eAccountable
Our vast experience running a variety of type of performance-based campaigns and special offers gave us the knowledge to pick the right partners for this test and get successful results.