Affiliate Marketing for the Chicago Bears Store:  It's All about Blocking and Tackling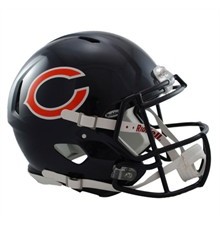 During the month of September, the National Football League's Chicago Bears may have been just starting their season on the gridiron, but the team's official affiliate program was performing like a Super Bowl champion.
Under the management of eAccountable, The Chicago Bears Store affiliate program experienced over 5 times year-over-year (5X YOY) growth for the month of September 2013. eAccountable took over the management of the football franchise's affiliate program on August 1, 2013 and worked hard on the fundamentals that the Store's marketing team did not have the time and human resources to implement themselves.
"Affiliate marketing is a lot like football," Durk Price, eAccountable's Founder and CEO said. "It's a lot of blocking and tackling and making the right plays. It's not all about the Hail Mary pass to get to a touchdown."
How We Did It
eAccountable achieved this level of success quickly for the Chicago Bears Store affiliate program by taking a page out of their well-developed affiliate playbook:
Updated and added text links
Reviewed and added current banner creative
Reviewed competitors and optimized commission rates
Recruited missing top affiliates from the existing program
Created affiliate-specific deals/offers
Used company marketing calendar to create additional affiliate deals/offers: including email messaging and social media (Facebook and Twitter)
Created vanity codes for top affiliates
Admittedly, eAccountable had a lot of positives to work with as The Bears have a great brand with a staunchly loyal following. It also didn't hurt that the team is off to a great season start to the NFL season. The program also continues to work with a great network – ShareASale – that provides plenty of support for merchants.
Still, official team sports gear is among the most highly competitive and regulated spaces online and it requires hard work and experience to run a successful affiliate program.
"We saw huge increases by implementing the simple things and tactics we use every day for all our clients," Price said. "Not all clients reach that level of success so quickly, but we were thrilled to see these results and prove how a well-managed program can achieve and exceed its goals."
eAccountable is a proud Partner of Americaneagle.com, and this relationship was developed with their support and assistance.