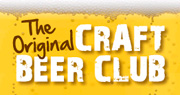 Two years ago, in May 2011, CraftBeerClub.com launched its affiliate program under the guidance of eAccountable and in just one year saw unprecedented year-over-year sales growth of a whopping 158 percent.
That kind of explosive growth seems slightly unreal, but not when key factors (such as expert affiliate marketing program management, deft and innovative oversight of the company's social media outreach efforts, and heightened consumer fascination with craft beers) combined to brew up a perfect storm.
Key Performance Metrics
(data is based on the period June 2011 through January 2013)
CraftBeerClub sales grew 158 percent from 2011 to 2012
Affiliate channel sales were 36.4 percent of overall sales in 2012
A social media offer generated 10.57 percent of overall sales since launching with eAccountable
Combined, performance marketing and social media accounted for 45.75 percent of overall sales by January 2013
This impressive growth for CraftBeerClub.com, whose parent company, GoldMedalWineClub.com, has also seen significant performance marketing success with eAccountable, is a testament to establishing a trusted working relationship with experienced partners.
"Using our expert knowledge of the performance marketing space, along with our proven social media tools, we were able to help CraftBeerClub.com experience amazing growth in a very short period," Durk Price, eAccountable's Founder and CEO, said. "These results are not necessarily typical, but really highlight the value of using an experienced team to drive results and exceed clients' expectations."
Affiliate Channel
To maximize CraftBeerClub.com's reach in the performance space, eAccountable also recommended the company work with multiple affiliate networks, including Commission Junction, ShareASale, and ROI Rocket.
That move paid off. During 2012, the affiliate channel sales resulted in month-over-month contributions ranging from 12.8 percent to 63.5 percent of overall sales, with an annual average of 36.4 percent of overall sales.
Social Media Outreach
eAccountable wanted to grow CraftBeerClub.com's brand presence, engage consumers and kick start a campaign to acquire new customers. Using Facebook as its main social media platform, CraftBeerClub.com launched an offer in June 2012 whereby visitors to its website were given a $5 discount offer if they agreed to "Like" the Facebook page. This special offer ran from June 2012 to January 2013 and generated 10.57 percent of overall sales for that period.
Once unlocked, the offer was shareable with friends and family.  This viral campaign allowed for the offer to be shared on other social channels as well. And while CraftBeerClub.com could not track those users that received the shared offer, the company could determine the number of consumers that were not tracked, but who redeemed the offer. Those viral sales accounted for 10.1 percent of overall sales during the same period as above.
That means that combined, the special social media outreach sales and the viral sales contributed to 18.6 percent of overall sales for the 7 month period of June 2012 through January 2013.
"We are beyond thrilled at the results we have seen from entering the affiliate marketing channel along with the performance-driven offers via social media," said Bradley Mansfield, Marketing Manager from CraftBeerClub.com "Our passion is for exposing consumers to new micro brews, so working with a veteran agency that understands how to help us share our passion in ways that creates success for our company while delivering great new beers to customers is a win-win."