Affiliate marketing is a critical channel for established online retailers. Companies who have yet to get onboard with affiliate are eagerly exploring how to get started with this lucrative marketing opportunity.
Ryan Fitzgerald has 12 years of experience in digital marketing. We sat down with him to learn some of the affiliate marketing basics. Here is a bit of what he had to say.
For people less familiar with affiliate marketing, how would you describe it?
It is a marketing channel that allows retailers to take advantage of a network of thousands of savvy online publishers, influencers, review sites, cashback/loyalty, coupon and deal sites to drive sales, build brand loyalty and acquire new customers – all in exchange for a commission.
A well implemented affiliate marketing program typically accounts for 10 – 20% of online sales for most retailers. It is exceptional for both smaller and big ticket items. There is a perception that affiliate marketing is only for consumer goods, but we have seen it be very successful with B2B clients and in supporting lead generation.
What specifically do online publishers do for online retailers?
A follower of an online publisher trusts them to recommend worthwhile products. The trust these publishers  have with the the visitors to their sites really helps retailers break through the noise and drive sales. Publishers sometimes write a piece about a retailer's product, post about it on social media or do a live feed to discuss it. They also test products and put retailers' banners and ads on their site.  
How do coupon and cashback sites help in closing sales for retailers?
Many times, before someone completes an online purchase they look for a coupon or an additional incentive to complete the sale on a particular site. Coupons and cashback help close deals and prevent potential customers from going to competitors' sites who offer the same product AND may offer an additional incentive to buy.  
How does eAccountable identify the best publishers  for retailer's products?
We have been around for a long time. We know the key publishers and influencers  and which ones will be successful with different products. We like the personal approach; and because we have the connections, we often contact them directly. Other times we contact and recruit them through the affiliate networks. Affiliate networks provide recruiting tools to enhance this personal approach with more automated capabilities.
How do you work with brands in contacting some of the bigger name publishers/influencers?
Bigger name publishers/influencers want to hear directly from the brand. Often it can be a more valuable conversation to have the brand involved; and it frequently gets them to respond more quickly. The best advocate for the brand is, of course, the brand itself, and we help facilitate these conversations.
What affiliate networks does eAccountable work with?
The primary networks we work with are – PepperJam, ShareASale/Awin, Commission Junction and RakutenLinkshare.
Do you ever work with more than one affiliate network on behalf of a brand?
Sometimes it makes sense to use more than one affiliate network – but it depends on the company and the product. Some affiliate networks are more robust for particular products and don't require using additional networks. Other products require us to use multiple networks to get maximum benefit.
How do you choose the specific affiliate network or networks?
Some networks are better than others for different verticals. With every client we do a competitive snapshot to see what their competition looks like, what networks the competition is in, what their payouts are, what their banners look like, etc. We then put together a recommendation on how companies can best approach and be successful with affiliate marketing. This recommendation includes what network or networks we think are best.
What are some of the costs associated with affiliate marketing?
To get started their is usually a launch fee from the chosen network, and then each time you sell a product you will be paying the affiliate who drove the sale and a performance fee to the network.
When a company starts with an affiliate network, they put a predetermined amount of money into an account, and when there is a transaction the affiliate network uses this money to pay the influencers and for their fee. It's called a pre-paid commission.  When the account gets depleted to a certain level, it is then replenished by the merchant. As an agency, we have negotiated most favored nation fees, meaning we get the most competitive fee structure, with each affiliate network. We pass along all of these savings to our clients.
What is the typical ratio of sales from publishers in comparison to coupon and cashback sites?
The earliest opportunities with affiliate marketing are with coupon, cashback and loyalty  sites. There is a perception that affiliate marketing is predominantly influencer based, but 50 – 60% of all affiliate sales are attributed to cashback, coupon and deal sites.
The great thing about cashback, coupon, and deal sites is they are very low cost. We pay them 1% to 8% of the sale, whereas with publishers/influencers we pay between 8%  to 25% of sale. With publishers or influencers you pay more, and they contribute less to immediate sales revenue, but they can be great in recruiting new customers and customers with great lifetime value. Cashback and coupon sites are the quickest in recognizing affiliate revenue. We work to get a great combination of both when strategizing our client's affiliate marketing programs.
What are the coupon, cashback and loyalty sites eAccountable works with?
An example of some of the sites  we work with are – RetailMeNot, eBates, BeFrugal, Groupon, Offers.com, Honey Coupon Cabin and more.  
What type of company is a good candidate for affiliate marketing?
It helps to have an established brand that is generating at least $1+ Million in direct to consumer online sales annually. It also helps if they have other marketing channels in place such as paid search, SEO, email and/or paid social. If they don't have these marketing channels in place – we can also assist with that.   
Why is $1 million + in direct to consumer revenue important before beginning affiliate marketing?
While it is a very affordable digital marketing channel there are still costs associated with it, and we often find with companies with less than $1 Million in annual direct to consumer sales, they do not necessarily have the budget in place to grow the affiliate channel to where it needs to be.  
Is there anyone that affiliate marketing does not work for?
It is rare that affiliate marketing does not work for a consumer good, but there are times I have told customers it is not the best marketing channel for them.  If they are a very small company entering a very competitive space it might not work. Also, for very niche products, it can be tough to make affiliate marketing work for them. This is why we do our homework to make sure affiliate marketing is a viable option for all of our clients before we begin. We don't take on work, to take on work. We take on a client to build a relationship that will be long term and profitable for them.
How do other marketing channels impact affiliate marketing and vice versa?
Marketing channels such as PPC, SEO and email help get people to the retailer's site. Coupon and cashback offers incent these people to close the deal. Consumers want to make sure they are getting the most competitive deal for the product; and the higher the ticket item – the more likely they will be shopping the web for the best deal. A great PPC campaign equates to a great affiliate campaign.  
What would you say to a company who wanted to manage affiliate marketing internally?
Make sure you have the resources and the time. Managing a profitable affiliate campaign takes digging in every day. It's not a set it and forget it channel. For instance, recruiting the right publishers and influencers is time intensive. Then, once you've recruited those affiliates you have to manage them.
Make sure the offers publishers and influencers have are relevant and that they're performing. Affiliate is a channel that is driven heavily by regular communication and without it, your marketing game plan can go south quickly.
How long does it typically take before retailers are seeing a return on their affiliate marketing investment?
We like to say between the first 90 to 120 days businesses can start to see an impact, but sometimes they see it right away. If you can get people to a site immediately – affiliate marketing efforts are naturally going to mature more quickly.
What would you say is the best first step a company can take to get started with affiliate marketing?
The best first step is to explore the affiliate landscape and to determine what your competitors are doing. Google your competitors plus the word coupon or deal and see what comes up. Look at the coupon and deal sites such as RetailMeNot and see what kind of deals your competitors post. This is an easy way to get the conversation going about what you will need to do to be competitive.
It also behooves a lot of companies to talk to an affiliate marketing  company. An affiliate agency can provide in depth information about the competitive landscape, costs associated with getting started, historic data, revenue expectations, affiliate network  recommendations and more.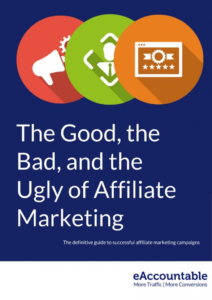 Ready to get see what affiliate marketing can do for you?
Download Our eBook: The Good, The Bad and the Ugly of Affiliate Marketing.
Photo by Ihor Dvoretskyi on Unsplash