What if I told you you could have access to 140 MILLION eyes a month?
Well, you can.
How? Amazon just announced advertising on Twitch.
Never heard of Twitch?
Twitch is a live streaming service and global community for content spanning gaming, entertainment, music, sports, and more. It's used in the United States, Canada, France, Italy, Germany, Spain, and the United Kingdom.
Why advertise on Twitch?
Two Pros:
140 MILLION unique visitors use Twitch every month. And it's only growing.
The potential is untapped – Amazon launched this feature 3 weeks ago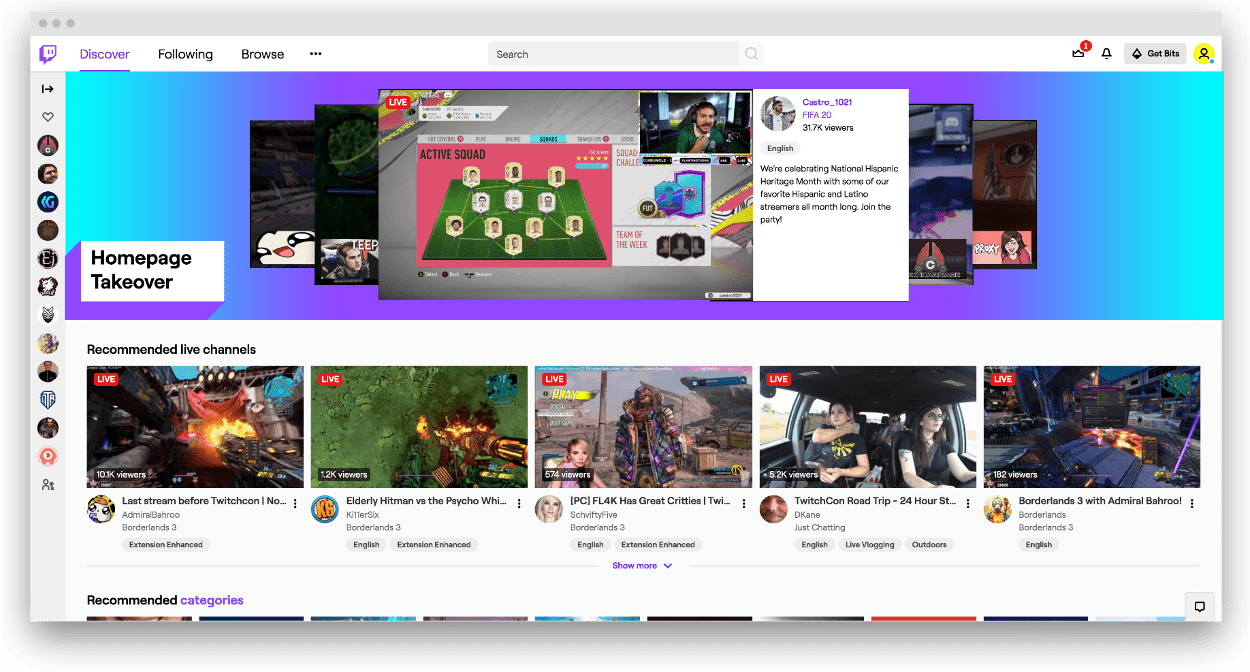 So, what kind of ads can you run with this feature?
Brands are able to use display ads throughout the Twitch site on the homepage carousel, create homepage headliners, and add medium rectangle and super leaderboard placements as viewers scroll through content.
Different Types of Streamers You Can Target Through Twitch Advertising
Let's get down to the specifics.
If you're unfamiliar with Twitch, you should note that there are 9 different lifestyle segments of streamers that Sellers can target with their Amazon advertisements.
They include E-sports viewers, Sports viewers, Game viewers, Non-Gaming viewers, PC Game viewers, Console Game viewers, Top Game viewers, Mobile Game viewers, and New Game viewers.
Here's a little bit about each of these categories:
PC Game Viewers: ~12-14MM people watch PC Gaming content.
Mobile Game Viewers: ~12-14MM people watch Mobile Gaming content.
New Game Viewers: ~10-20MM people watch new games released in the past 12 months.
Top Game Viewers: ~10-12MM people watch content from the Top 10 games.
Game Viewers: ~10-12MM people watch Gaming content.
Non-Gaming Viewers: ~10-12MM people watch Non-Gaming content.
Console Game Viewers: ~10-12MM people watch Gaming Console content.
E-Sports Viewers: ~7-8MM people watch Electronic Sports content.
Sports Viewers: ~6-7MM people watch Sports content.
While there is a lot of overlap between these different segments, certain product verticals may find more success targeting select segments instead of all segments.
For instance, a seller looking to drive awareness on their new low-to-ground gaming chair may focus their targeting on console players.
Or – a supplement company may want to A/B test PC vs. Console players.
Because it is still so early, it's unclear yet what the best way to approach Twitch advertising. So, it's critical to A/B test.
Different Types Of Creative You Can Do
As mentioned, with Twitch ads you can run ads on a homepage carousel, homepage headliner, a medium rectangle and super leaderboard placement as viewers scroll through content.
It is important to note that there is currently no option to add animations or GIFs to your advertisements.
Through Sponsored Display, you can choose between two creative options:
Add a logo and header
Add a custom image
With option 1 – You can provide a brand logo and a Headline (up to 50 characters). This works great if the goal is to provide additional copy or value prop around your product.
With option 2 – You can supplement your product image, title, reviews, and price with a lifestyle image. This works great if an additional image is needed to bring the product to life and capture the audience's attention.
Again – we recommend A/B testing lifestyle images and headlines.
A Twitch Advertising Example From Our Amazon Clients
At eAccountable, we have been testing Twitch advertising with a small sample of our clients.
Here are some initial findings:
Very low conversion rate through both vCPM targeting and CPC targeting. 
Very strong for driving impressions. Click-through-rates below 0.1% due to extremely high number of impressions. 
A/B testing has shown that the Logo and Header option is more effective than the custom image option. 
Our biggest takeaway is that this appears to clearly be a top of funnel strategy to drive brand awareness – not conversions.
This comes down to how much you care about impressions. If you are ROAS, bottom-of-funnel focused, then this is not the right fit. However, if you have a strong bottom line, and are looking to drive more awareness and top of funnel traffic as a challenger brand, then Twitch advertising is an excellent fit.
Unsure about whether to advertise your Amazon product on Twitch? Want to learn more about what would be a good fit for your brand? Drop us a line here and we'll schedule a free consultation to talk about your unique needs.