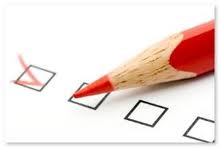 By Durk Price
In August I shared some research that we have been conducting over the last few months.
We are still in the process of gathering even more data from our affiliates to complete our 22-question AffSurvey, but every now and again I like to give you a glimpse of what we've gathered to date.
Please, keep in mind that the survey was designed for our eAccountable team to gather the data and make adjustments that will improve how we serve affiliates, but still offers some insight into the overall affiliate community.
Currently, we are surveying our affiliates using different ways to reach them – via the network, emails, and through social networking sites.
We found that the results for all the platforms we are using to gather were pretty inline with each other as far as results.
One of the most interesting insights included how our affiliates feel that about the hot trend of group buying. Nearly 69 percent of the respondents said group buying is here to stay. And between 40 and 50 percent are planning on adding group buying functionality to their sites.
I believe that shows the power and opportunities that are available with these group buying and daily deal models for innovative affiliates.
When it comes to affiliates using mobile in their marketing efforts, the data shows that between 15 and 30 percent are leveraging that emerging medium. That means there is an opportunity to use creative mobile marketing to stand out as an affiliate. I look forward to seeing that number climb over the next 12 months.
I also found the stats about pay-per-call ripe for affiliates to differentiate themselves. While nearly 20 to 30 percent said they are currently using pay-per-call, between 38 and 50 percent of our respondents thought it would be a great opportunity for the networks to include such functionality. I know ShareASale has already done so with great success, I hope the other networks are listening too.
Stay tuned for more data as we continue to compile the results from our survey.