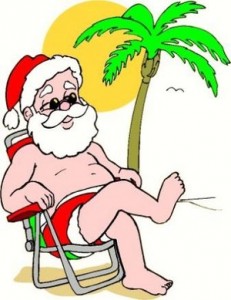 By Durk Price
It used to be that when someone used the phrase "Christmas in July" it was intended to be ironic and illicit a chuckle since the images of summer are the exact opposite of the holidays. Most of us aren't thinking about gifts, snow, family celebrations by the fire and all that Norman Rockwell stuff while at the beach or finding ways to beat the heat.
But now, that phrase is almost a reality. Ok, not quite, but pretty close. This year I have seen marketers – both online and offline – that have started their campaigns as early as the end of August.
It used to be that gearing up for holiday season for online marketers typically began in October – after the Halloween and fall push. But now that's not the case.
I know many online marketers are always thinking about the holidays since the fourth quarter is typically where they make more than half of their income for the year. In some cases, the fourth quarter accounts for upwards of 80 percent of annual revenue.  But most of those efforts were internal and focused on planning and getting sites ready for the holiday onslaught.  Now many of these are outward facing campaigns aimed at capturing consumer's attention as early as possible. There are now pre-Black Friday sales and pre-Cyber Monday offers.
I certainly applaud those online marketers that think ahead and are well-prepared for the holidays. I believe that the early bird gets the worm. And as competition for consumer's limited dollars heats up, it's paramount to get their attention early.
However, I wonder if there is such a thing as "too early." I know that as a consumer myself, I am subject to fatigue and apathy from the barrage of holiday offers. Once I start hearing these marketing messages too early (like August and September) and too often, I tend to tune them out. I imagine there are others who feel the same.
What do you think? Have you run campaigns earlier this year than in the past?  Are you seeing traction with consumers? Let me know. I'll be happy to be proven wrong.