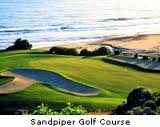 By Durk Price
It's September and that means another annual CJU conference. It's hard to miss any event put on a by a big network – especially one with a setting as spectacular as Santa Barbara and I've been coming to this one for years.
The networking at CJU is always top-notch; in fact this year's program was called "The Network Effect," to demonstrate the power of great networking.
But no matter how busy I am meeting with CJ executives and clients, I always manage to sneak in some golf with clients and others duffers from the industry. Although, some people would say 72 holes was more than a "sneak". I played 2 days with Brian Littleton from ShareASale, Scott Jangro from BeFree times (now he's the CEO of MechMedia, which is launching Shareist and Rob Duva from RingRevenue. We had moments of brilliance, ask Brian some time about the 3-hybrid he hit for the very first time from a crummy lie, but mostly it was goofy golf. Thankfully a few drinks and dinner took away all memories of the golf day except the camaraderie.
Then on Monday it was the RingRevenue scramble. Shergul Arshad from StyleFeeder made it two appearances in a row without cashing. More drinks and food ensued.
I think I should have gone on the wine tasting trip to the Santa Inez Valley (yes, the wine country featured in the movie Sideways) also sponsored by Ring Revenue. I know I would have been under par on that course.
There was also an OPM Party held on Monday night at Blue Agave.  Previously, I've posted my thoughts about the spirit of camaraderie among OPMs and the good vibes were certainly in full-swing at the OPM event. Everyone had a great time.