EAccountable.com is based in beautiful Denver so we are no strangers to extreme winter weather conditions that come with being in the majestic Rocky Mountains. But over the last few years nearly all areas of the US from coast-to- coast have been hit by some type of significant weather that has impacted and too often devastated entire regions.
And this week, the news is filled with reports of Mother Nature striking hard on both coasts with snow and rain. So, my question to you…is your business ready to weather a storm and still keep running?
This is especially significant during these final weeks of Q4. Just think about it, if your website goes down, or tracking doesn't work, or employees are not able to work, you may be losing thousands or tens of thousands of dollars per days during these final two and half weeks of this online holiday shopping frenzy.
Obviously, personal safety is priority number one for you and any employees you may have, but it's also crucial to protect your data and your business. Online businesses must be online and operational to make money and serve customers. And while there is no way to assure that you can avoid all risks, there are some basic steps that will help keep you up and running in the event of a disaster or weather emergency.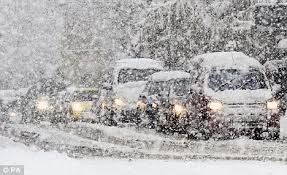 Have a Plan
Have a detailed disaster recovery plan to account for more situations (fire, earthquake, evacuation, etc). Part of that plan will include making all of the staff aware of what to do in various situations and running through drills every six months to ensure procedures work as planned.
Server locations
Having back-up servers in locations other than where your business is located, is a good idea. Of course, your hosting company should maintain redundancy and have its own backup systems, but if you have servers at your location, be sure everything is backed up and that those backups are not on site or in the cloud. That will enable you to pull files and do a full server restore if something should happen to local servers.
The same applies to phone servers (VOIP). They should have the ability to be "hot switched" to a remote server which can replicate voicemail and all the capabilities remotely.
Use the Cloud
There are so many cloud programs to store documents (Dropbox, Google Docs, etc.) and having critical data located in the cloud are all good ways to insure your business can continue running in the event of a natural disaster. This will allow remote access to any important data – especially if you have employees and they need to work remotely.
Have a Telecommuting Policy
Many in the affiliate community work from home, but there are also a large number of companies agencies like us, larger affiliates, vendors, retailers, etc., that have physical offices. Most have some sort of telecommuting policies in place (and even remote workers scattered around the US), but if you don't set have specific telecommuting policies, put them in place immediately. They should detail when it is acceptable to workers to be offsite and how they can access all necessary information to do their jobs. Work with your IT department to ensure all employees have remote access to servers and data and can work at home in case of extreme weather conditions.
Also, buying employees laptops rather than desktop can make it much easier for people to work anywhere. And since laptops are often just as powerful as desktops, this is a no-brainer. And for some smaller companies having a Wi-Fi hot spot will enable employees to continue to have online access if the office Internet goes down.
Back Up Everything
It's great to maintain multiple copies of files in the cloud. But keeping physical copies on backup tapes, disks and external hard drives also make good business sense.
The important thing is to minimize risks to your employees and ensure your business can continue to run even if it seems that Mother Nature is working against you.