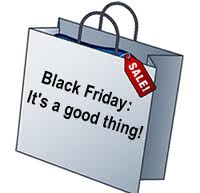 By Durk Price
Thanksgiving is a just a week a week away.  I get excited just thinking about gathering family and friends for the huge meal, ski for a few hours, watch some football and just enjoying the day. Oh, and of course, the best part – NO leftover turkey sandwich the next day. We are doing something different for Turkey Day –  a tenderloin roast. This allows me to go skiing and not worry about spending all day tending to a turkey. Good news though- the following day we are having dinner at friends who are serving turkey- mmmm! .Not a bad weekend at all.
Most people online marketers are not dreaming of turkey and all fixings', they are instead laser focused on Black Friday, one of the biggest holiday shopping days of the season.  But if you've seen some of the promotions by big retailers, it's more like Black Thursday Evening. Some stores, such as Wal-Mart, Target and Sears, aren't even waiting until the wee hours of Friday morning, but rather opening their doors at 8pm or 9pm on Thanksgiving Day.
The idea is that as soon as the last plate from the pumpkin pie hits the dishwasher, shoppers will be out the door to get a head start on the sales. This is yet another effort to combat the growing number of people that are opting to shop online for Black Friday deals rather than standing in line at 4am hoping to nab one of the first 50 flat screens at half off.
But savvy merchants and affiliates have been prepping for Black Friday for months. They are ready with big campaigns, offers and promotions. Affiliate network ShareASale created its annual database of merchants that are offering Black Friday offers to make it easier for their affiliates to find deals to promote.
Other affiliates sites have been accepting slotting fees for merchants to have a run of site advertising campaign for specific time periods. This is a great way for affiliates to diversify their revenue stream and make some big bucks – provided they have the right audience for the merchants.
Other large affiliate sites, including Offers.com, have Black Friday buttons featured prominently on their sites so that consumers can see the upcoming deals. And like others site, Offers.com also has done much of the leg work breaking done deals into list and categories to make it easy to find the best deals for "gifts for kids" of "gifts for men" and much more.
In addition most deal and coupon sites, as well as other affiliates, allow customers to sign up for Black Friday email alerts.
Some affiliates have taken it a step further and yes, there is an app for that.  FatWallet has a Black Friday app with listings of Black Friday deals by retailer, category, price and more. You can also filter deals by online availability if you don't plan to go to the stores on Black Friday. If you turn on notifications, the app can push an alert whenever a new ad is leaked. The app supports creating Black Friday shopping list that can also be viewed on FatWallet.com
The SaleLocator app for iPhone and Android is a deal-finding app that shows you what's on sale now in 20+ categories at local stores using your phone's GPS to pinpoint exactly where you are.  Consumers can get detailed sale information including description, available dates and address or use text search to find a deal on a particular item, or view nearby Black Friday sales. And the app will display all the local deals on an interactive map so you can figure out your travel route.
So, I say kick back, skip the lines (and the risk of being trampled by crazy bargain hunters); the best deals are right at your fingertips.