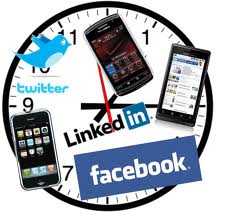 By Durk Price
There has been so much written about the importance of those in the performance marketing space having a social presence.
We all know that being where your customers are – Facebook, Twitter, Pinterest, Instagram, etc. – is a great way to deliver company and product information, acquire new customers and engage with loyal users.
But recently I have many studies now showing that it's not always about how often merchants and affiliates leverage social media but when they do it. Timing is everything according to these reports. Unfortunately, many of the studies seem to have conflicting data about the best times to interact with followers.
The old way of thinking was to post new information and offers during regular business hours (presumably 9am to 5pm) and hope that followers saw it in their Facebook and twitter streams during the course of their day.
Some studies now show that although consumers are checking those social accounts periodically during the day, they are not as engaged with acting on offers. Instead they are more concerned about peaking in on the status of friends and peers and not missing out on important update.
Instead, these studies show that weekend posting for those attempting to engage consumers (B2C brands) may prove more fruitful, as consumer have more time to act on offers and engage.
Social media marketing firm Buddy Media's  study found that brands are tweeting too much during the week and not enough on the weekend. Twitter engagement rates for brands are 17 percent higher on Saturday and Sunday compared to weekdays. However, only 19 percent of brands' tweets were published on the weekend.
Buddy Media also found that the weekend results in 30 percent higher engagement for fashion brands. Publishers also see 29 percent higher engagement on Saturdays; however, only 7 percent of tweets from publishers actually happen on Saturdays.
Additionally, tweets delivered during busy hours — defined as between 8 a.m. and 7 p.m. — saw 30 percent higher engagement rates than those that occurred during off-peak hours. Facebook is the exact opposite; in fact, where posts published during off-peak hours get 17 percent higher engagement.
However, new research from marketing platform Compendium finds the opposite.
The study found that B2B marketers saw the biggest opportunity for user engagement if they tweeted on a Wednesday. While LinkedIn content posted by a B2B company on a Sunday saw the greatest chance of success.
B2C marketers had different results. LinkedIn posts done on a Monday had the greatest chance of success for B2Cs. While tweets from B2Cs saw greater success if posted on Mondays or Wednesdays.
In addition, here are some slides from a webinar given by social media firms Argyle Media and Convince and Convert that addresses social media timing questions as they pertain to Facebook and Twitter. The results are a mix of the reports from above.
So, it seems that there are no solid conclusions to draw about timing and that the only thing brands and affiliates can really do to ensure maximum engagement is to measure their own results and continue to see what works best for them.