I'm a big fan of Marketoonist. Tom Fishburne is a career marketer and cartoonist, which makes his weekly cartoons spot on.
He has an eye for highlighting the oddities and ridiculousness of marketing and poking fun at them and those of us that do this for a living, so I got a chuckle  out of this week's cartoon
In this case the cartoon is about "Ad Viewability".  Is "viewability" even a real word?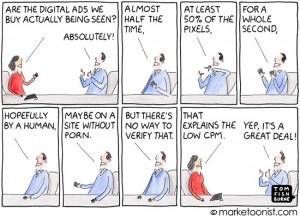 Normally I just giggle about the cartoon, but this time I read on and what he wrote really rang true. "This is one of of those rare cartoons where I didn't have to exaggerate anything to make a situation sound ridiculous."
I read this twice and realized that the truth stings a bit.
Fishburne went on to write: "The digital ad world has been is a state of disarray since Google shared the results of a study18 months ago that a whopping 56.1% of display ad impressions are not even seen. And the criteria for whether an ad is officially considered "viewable" by the IAB is a pretty low bar: at least 50% of the ad pixels on screen for at least a second."
This is not so funny. Online marketers have more sophisticated tools than ever to track, manage and target campaigns. So, why are we still running campaigns where  advertisers are paying for the ads to be served but likely not viewed?
An ad served doesn't necessarily equal an ad viewed, and digital advertisers and publishers are catching onto this as the industry shifts toward valuing viewable rather than served impressions.
But viewability is still broadly defined as being able to measure whether or not the ad had a chance to be seen. But it doesn't measure whether it was actually seen – unless it was clicked on. And let's face it, half an ad appearing on screen for 1 second isn't being viewed.
So what affects an ad's viewability? Google says that the most viewed ad position is right above the fold, not at the top of the page and that vertical ads are the most viewed.
Ok, so there are some stats from Google about viewability, but I'm still not convinced that we have this display measurement viewability  thing down – yet. There are still too many issues that have not been addressed. My hope is that as the industry continues to mature we will find methods to overcome challenges and end up providing even more value to advertisers. My goal is always to add value and help advertisers pay only for what they get – that is the essence of Performance Marketing.