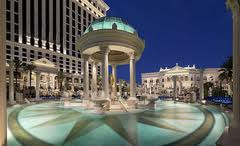 By Durk Price
Nearly as soon as we ring in 2012 Affiliate Summit West 2012 will be here. It's just a little over two weeks away before the eAccountableOPM team heads to Vegas for the conference.
As usual, I'm all pumped up about attending the conference. And once again, we are going to have a suite at hotel (Caesars Palace). It's worked well for us the past two times we've done it at previous Affiliate Summit shows.
We keep refining the process to get the most out of meetings and networking with our clients, partners and affiliates. It's also a great time and venue for us to thanks everyone who works with us in a face-to-face setting.
And this time we are doing it up big. But in addition to offering up a respite for the hectic pace of the conference and offer the ability for our team to hold individual meetings, we are having some presentations that allow us to detail all that was accomplished in 2011 and plans for next year including new initiatives and business opportunities to support continued growth of our business and yours in 2012.
We'll be in the suite January 8 – 10. Stop by and join us or contact our team to set up a private 30-minute meeting.