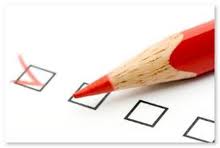 By Durk Price
We been conducting some research with affiliates we work with to better determine more about their business, how we can better serve their needs and what they expect from us.
The 22-question AffSurvey  was design for our eAccountable team to gather the data and make adjustments that will improve how we serve affiliates.  And while our methodology is sound, we are still just polling a segment of the industry (our affiliates) and have not yet reached response rates that let us draw conclusion about the entire affiliate space.
Still, there are some interesting data points that stand out.
We asked affiliates if they plan to add a "daily daily" or group buying functionality to their site this year. A full 42 percent said they were planning to add that functionality.
For me, that shows how Groupon-like services have captured that attention of affiliates in such a short period of time. Affiliates know there is money to made by offering that type of daily deal and they want to work quickly to capitalize on it.
We also asked how affiliates they choose which advertisers to work with. Sixty-four percent responded that choice is based on commission payout, 43 percent said they want to work with a brand name and just 15 percent said that it was the average order size.
This data gives our OPM firm great data to take back to our merchants and help them set up a program that will enable them to attract the top, highly-motivated affiliates.
Affiliates we also polled to answer several questions about working with OPMs in general. We are planning to use that data to continue to evolve and provide the best experience possible for everyone that works with us.
We may opt to publish the survey results when it is complete. But for now, we've gathered useful data that will move our business forward and help our affiliates get the most from working with us and our merchants.