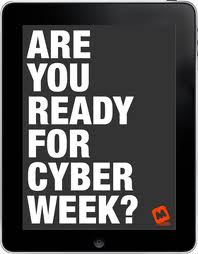 By Durk Price
Over the last two posts I've included a lot of data from market researchers and other about how well online marketers performed on Thanksgiving Day, Black Friday and Cyber Monday. Now it's time to share some data that that we've collected from our own clients.
As an OPM firm we manage more than 80 URLs for a variety of clients. These range from smaller programs to big brands that focus on retail sales to consumers.
And while we can't give out specific sales figures for these milestone days in the important online holiday season, we can share some averages.
On Thanksgiving Day the daily sales were 85.01 percent of normal daily sales. That was a surprisingly strong number in my experience.My guess is that people were using their computers of mobile devices to look for offline sales for Black Friday and ended up making purchases right then. Hopefully, these online purchases were taking place after their celebrations with family and friends and not while passing the stuffing.
And Black Friday was even better with all of our clients showing an average gain of a whopping 186.14 percent above daily sales averages. Wow.That's even tastier than a leftover turkey sandwich.
Although that pace of average client sales continued to be far above the daily average into the weekend (up 120 percent on Saturday and up 150 percent on Sunday), Cyber Monday blew us away.
Any time you can come up with an average daily increase for more than 80 URLs that is 318.57 percent, you've got to be ecstatic. That growth was beyond our expectations. I knew it was going to be a great Cyber Monday, but this blew me away.
And following Cyber Monday (which I have dubbed Tailing Tuesday around the office) we still saw online sales for all our clients grow by an average of 164.74 percent for the day. That was nearly at the level of Black Friday growth. For me, that shows that there may not just be one or two days that people go online to shop but that it's a process for consumers.
We're still tallying our data from some industry watchers have been calling Green Monday, which is the Monday after Cyber Monday and in the past it has emerged as the biggest online shopping day of the year. Actually eBay came up with the term in 2007 to describe its best sales day in December, which was second the Monday of the month. It's often the last day that procrastinators have to make purchases and get shipped to loved ones without paying rush fees.
Some figures I've seen elsewhere indicate that Green Monday was a success. One of our trusted partners, ChannelAdvisor, a global e-commerce software provider that manages over $2 billion in merchandise for  Saks, Dell, Brookstone, and others, reports that its clients cashed in on Green Monday  to the tune of a 19 percent increase in online same-store sales.
But don't forget we still have Free Shipping day on Friday, December 16th to look forward to. It really is Cyber Week and reason to celebrate.