Last week completely got away from me. I was dealing with an extra jam-packed schedule of meetings, regular business stuff, being a new grandpa, and preparing for ShareASale ThinkTank in two weeks in Chicago. So, needless to say, I was late with my Friday Pulse week ending wrap up. Instead of wasting the efforts to let you know what happened last week, I thought I would share it with you today. Hey, better late than never.
South Dakota Sues Four Big Online Retailers Over Sales Taxes and Blue Nile Stops Shipping to South Dakota The tax issues are heating up again and South Dakota is the latest battleground.
Strong Q1 Advertising Shoots Facebook's Results Beyond Expectations Look for FaceBook's advertising to become more important to retailers and, obviously, to FaceBook.
Why Your Wallet is Becoming the Next Platform  This is what I've been saying is the next big thing in IoT.
Brand Camp [Cartoon]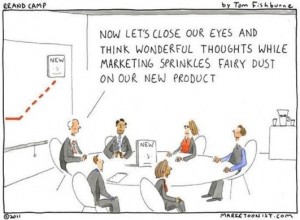 Google Mobile Clicks Double, CPC Lower Google and mobile. Hot, hot, hot!
Here are a few nuggets from Business Insider (requires a subscription).
CONSUMER-GENERATED CONTENT HELPS DRIVE ONLINE SALES: Consumer-generated content (CGC) is on the rise as e-commerce continues to grow thanks to social media and product review sites. Shoppers are able to more readily spread the word of their favorite brands and products, and retailers are taking advantage to drive sales, according to a report from BazaarVoice.
Shoppers that interact with CGC are 97% more likely to convert with a retailer than customers who do not. Brands see a 78% lift in conversion rates when customers interact with CGC.
Revenue per visitor for retailers increases 106% when customers interact with CGC versus those that do not. For brands, revenue per visitor sees a 75% lift due to CGC.
Average order value among retailers gets a 10% lift when shoppers interact with CGC. For brands, AOV sees an 8% lift.
Taking advantage of the high volume of CGC is vital to retailers that want to win over potential shoppers and their trust. US consumers are heavily reliant on online reviews before making both in-store or online purchases, according to a separate report from Bazaarvoice cited by Internet Retailer. In addition to including shoppers' social media posts in their own campaigns, brands and retailers can reprint positive feedback in brick-and-mortar locations, print advertisements, and other online ad campaigns to help drive sales.
54% of US shoppers read online reviews before making an e-commerce purchase.

39% of shoppers read online reviews

before

buying in-store.

82% of shoppers read reviews while inside a store immediately before making a purchase.

The most read reviews are for electronics, with 58% of shoppers performing research before buying anything in this product category in-store.
COUPONS INFLUENCE SHOPPING BEHAVIOR AMONG BRAND LOYALISTS: Coupons remain one of the most influential shopping tools with the ability to lure a loyal shopper away from their preferred brand or retailer, according to a report from Valassis. In fact, coupons are just as influential with the average consumer as they are with brand loyalists.
84% of all consumers (not including brand loyalists) are likely to switch stores to take advantage of weekly specials. By comparison, 82% of brand loyal shoppers would do the same.

82% of all consumers would buy a brand they wouldn't otherwise buy due to a coupon, whereas 78% of brand loyalists would do the same.

85% of all consumers would try a new product due to a coupon, whereas 84% of brand loyal shoppers would do the same.
Coupons wield a lot of power among all types of consumers. Forty-three percent of shoppers that consider themselves "brand loyal" report feeling better overall about companies that offer coupons than those that do not. Brands and retailers should focus on increasing their coupon offerings, especially to loyal customers.
Implementing loyalty programs that focus on savings is one way to reward shoppers that stay true to a brand, while also meeting their shopping needs. Making coupons available on mobile devices also helps in-store consumers, who are already using mobile devices for product research and price comparison. Target's Cartwheel app is an example of a savings-focused platform that provides personalized recommendations and in-store mapping to help lead consumers directly to products they can save money on. The app was first launched in spring 2013 and has since been downloaded over 18 million times.