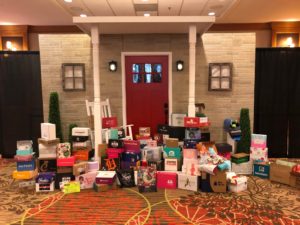 The 3rd Annual Subscription Summit, held in Denver, Colorado, opened with Lil' Jon and LMFAO,
had the motto of "Elevate Every Experience" and was jam packed with speakers, experts, vendors,
tips and tricks on how to up your game in the subscription space. Here are 22 takeaways from this
year's Subscription Summit.
1. Customer Experience is MOST Important
The co-founder and CEO of Gentlemen's Box, Christopher George, spoke during his opening
remarks at the Subscription Summit. He said, "Customer experience is the most important part of an ecommerce business
regardless of subscription box or not. That includes the first ad click, first banner impression, first
website visit, purchase, post purchase, follow-up, and customer service."
2. Allow for Customization, Personalization, Skipping, Pausing and Cancellation
Give customers not only the ability to see items in their box prior to shipping but the ability to
pick and customize the box to their liking. Also, allow them to skip a box or pause the service for
any reason – albeit because they do not like the contents of the box or it is simply not convenient
for them to receive a box at the time.
Lastly, there will always be churn. It is unavoidable. Do whatever you can to make the process as
easy as possible. If customers leave on a good note it is more likely they will come back.
3. Encourage Loyalty with Allowing Repeat Customers to Purchase Limited Edition or
Previous Boxes
Reward loyal customers by allowing them to purchase limited edition or previously sent boxes
before opening it up for others to do so. Plus, this helps reduce inventory and can be sold at a
higher cost.
4. Read Reviews, Respond to Your Customers
Your customers are leaving, and staying, for a reason. Regularly read comments and reviews to
understand customer likes and dislikes and then modify your products and services accordingly.
Further, be proactive in understanding your customers opinions – survey them regularly.
5. Encourage Employee Authenticity
Authentic brands perform better. To have an authentic brand you must allow employees to act
authentically. Allow them to be unique and themselves. Create an environment that is accepting
of individual personalities.
6. Automation will Never Replace the Humans
Human touch and connection is critical to building brand loyalty and therefore your business.
Humanize your brand by creating connection with people not tools. Automation and chat boxes
are good tools but they will not replace strong customer service.
7. Hand Write Thank You Notes
Email doesn't mean much and phone calls barely mean anything. Taking the time to write a
handwritten note, seal it, and send it to demonstrate you are willing to take the time to make a
human connection. Hand written notes are simple, take one two minutes, and leave a lasting
impression.
8. Know When to Bend Over Backwards and When to Let Your Customer Go
Customers vote with their feet. If they don't love you, they will leave and go to someone they do.
However, it is important to know when to bend over backwards for a customer and when to let
them go. Think who the absolute worst customer would be for your brand and work backwards
to find best customers – then love and lose each accordingly.
9. Have Total Shipping Transparency
Build shipping costs (and returns costs) into pricing. Customers should not be surprised on the
checkout page with shipping fees. Create shipping information landing pages with real time
shipping information. (These pages are also wonderful opportunities for upselling.) Be proactive
and provide upfront notifications about delays. Consider using SMS/text for better
communication with Customers.
10. Personalize / Curate Boxes
Your customer is trusting you to do the shopping for them. The best subscription boxes are the
most targeted boxes and the more targeted the better. Create a way to collect feedback and
adjust subscription boxes accordingly. Remove poorly performing items from circulation and cater
to what is popular. Make sure that box 14 is far more personalized than box number 2. Remember
to keep boxes fresh and avoid recycling the same items.
11. Differentiate Yourself from Amazon
Differentiate from Amazon by being different, unique, and caring more than they do. They may
beat you on price, but you can beat them with heart.
12. Go Mobile
Across the board, subscription box subscribers that go Mobile (SMS/text, app, etc.) have a much
higher Lifetime Value (LTV). Mobile customers are more frequent users and have higher Average
Order Values (AOVs). This is especially true for companies that provide the option to skip a
subscription box.
13. Influencers
Influencers selling boxes and products has increased 4X over the past year. However, a celebrity
endorsement or influencer can't be the business model for growth. Let the celebrity or influencer
get you the first sale but know you will have to get all sales thereafter.
14. Tell a Story
Subscription boxes need to tell a story. Creating these stories generally require are a higher cost
up front, and high recurring cost but they are becoming a business imperative in recruiting new
customers and maintaining existing customers.
15. Build Community
Go beyond the box and build a community where your customers come back to and engage with
others and your business.
16. Navigate Failure
YouTube was a failed video dating site and is now the second largest search engine. Failures will
happen. They are not always a bad thing. Learn from mistakes and use them as an opportunity to
start fresh with a clean slate.
17. Ideate
Most companies fail to properly ideate. For every 5 ideas you have, 1 will be doable. Guidelines
around creating good ideas include:
The more people involved in brainstorming and the more diverse they are – the better
Create a process for idea approval (e.g. have everyone pick the idea that is the most
rational, the idea that will make the most customers happy, the idea that is truly
innovative, the idea that is easiest to execute and the long shot idea)
Encourage an environment for diverse opinions
If you are the boss, excuse yourself. Some of the employees may not share all their ideas
if they are intimidated by you.
Follow up – if you're going to invest the time into ideas and innovation, try them out and
see what works
Ideas should be specific, should reach a goal/solve a problem, and the whole team should
be aligned on them
18. Differentiate
It's more important than ever to differentiate. The subscription market is oversaturated and has
many high value competitors. You must come up with a unique value proposition, push it, own it,
and use it to find and keep your base.
19. Know What Your Competition is Doing
Be aware of what the competition is selling. Monitor what they are sending. When customers
receive the same item from two different companies – especially those with different price points
– they will begin to lose trust in one or both.
20. Consolidate Email Tools
Gain more control over your funnel, be more consistent with messaging, avoid excessive
communication and improve customer journey by consolidating all email tools into one.
21. Grow Facebook Advertising with User Generated Content
Customers images look the most native and authentic. Create a campaign and process to collect
and utilize customer photos with your product.
22. Partnering with Non-Profits – Drive Profits
To get you have to give and the companies who have active giving built into their business model
are reaping the rewards. The statistics are showing doing so can increase LTV by 30%. Determine
the best way for your business to give to a charity that is in alignment with your business values
and brand. Then make sure your customers know that buying from you also goes to the greater
good!