Founded in the year 2000, eAccountable is a Digital Ad Agency headquartered in Denver, Colorado. Digital Ad Agency Services include Paid Search Marketing (PPC/SEM), Paid Social Marketing (Facebook, Instagram, Pinterest), Affiliate Program Management, Customer Experience Optimization (CXO), Organic Search Management including Content Creation (SEO), Email Management, SMS/text Management, Research including Customer Satisfaction Indexing (CSI Surveys) Customer engagement, Conversion enhancement, retargeting and more.
We specialize in retail representation and provide services for numerous Internet Retailer Top 500 merchants. We know how to drive More Traffic, deliver More Conversions growing sales and control your costs per conversion.
Hear what clients say about our services...
Joe Schmidt -

Best in the Business

I've known the team at eAccountable for going on 10 years and they've never let me down. We've worked on nearly 6 accounts together and they never stop at any one stream of revenue or opportunity, they always show up with novel and new ideas on how to achieve our goals. I cannot recommend them highly enough.

D.M. - eAccountable has an excellent knowledge of the business...but even more important for PureFormulas, is the fact that we can rely on these great folks to get the job done in an efficient manner. Our partnership has been built on an impeccable value system that consists of transparency, integrity, and revolving in a culture driven by mutually agreed results and accountability. We love working with Durk, Stephanie and all past and present eAccountable team members -- rare combination of driving outstanding results at a cost that's extremely approachable. Thanks for all you do for the PureFormulas team!

Lisa Sodolak - I don't even have to think about Affiliate Marketing! With eAccountable in our corner, we don't even have to think about our Affiliate Marketing programs. Instead I can focus on other areas of marketing while they manage our 2 affiliate marketing portals and communicate our progress back to me. It's a relief to have a partnership that you don't always have to check up on to make sure they are doing a good job for you! After several years, our affiliate marketing channel continues to grow each month.

B. Mansfield, Senior Marketing Director - 7 years and counting - We started at ground zero, and every year since our affiliate sales have grown. This year is no exception. Durk, Stephanie and the rest of the team are professionals to the 9th degree. This year we brought on the Adwords and SEO side of eAccountable, we have no doubt that we will see the same growth in sales as we have seen in the affiliate program over the years. 5 stars and more, eAccountable meets and beats our goals.
eAccountable Success Formula
eAccountable's transparency, in-depth analysis, and customer centered approach has been delighting customers for 18 years.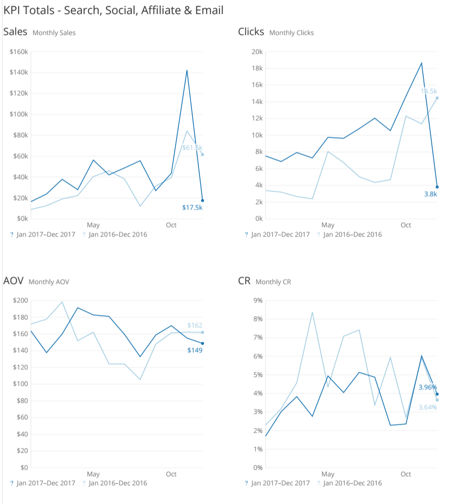 Real-time Reporting
Real-time Reporting and Insights that go far beyond what the standard Google Analytics and Ad Networks provide. Not just the "what", but also the "why" and "how" everything works together.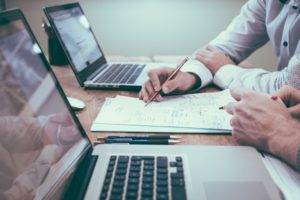 Competitive Analysis – Tailored Solutions
All work begins with detailed Competitive Analysis to assure best practices as well as continuous improvement goals are delivered, whatever channel or channels eAccountable may manage for an Advertiser. From the analysis eAccountable tailors individual management strategies for each channel.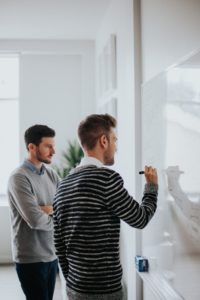 Consultative Approach
Every Advertiser operates with unique sets of opportunities, parameters, and restrictions. As a result, each Advertiser requires unique online marketing solutions that apply to every component of the digital marketplace. Discovering the Advertiser's core value propositions and key performance indicators is critical for success.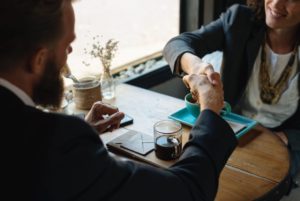 Long-Term Relationships
Trust and Continuous Improvement lead to long-term relationships. Long-term relationships foster the healthiest business growth.
The Good, the Bad, and the Ugly of Affiliate Marketing
New eBook by Durk Price
Affiliate Marketing is a strategy that many, many Brands get wrong. A reason for this is that there isn't a lot of great information from top Marketers for reference. But now, with eAccountable's new eBook, The Good, The Bad, and The Ugly of Affiliate Marketing, that information is out there.
100% of all eAccountable employees are Google Certified. In fact, most are both Google AdWords and Google Analytics Certified.
"We build longterm relationships by implementing strategic, accountable digital services helping businesses grow."
- Durk Price, CEO & Co-Founder
Request Your FREE Consultation Today!
Click to request a free "Big 3" analysis from an eAccountable digital consultant. You'll leave this meeting with the 3 Big Ideas to grow your business now.