Are you leaving money on the table?
With an average ROI of $36 to $1, there is no doubt email marketing is a key digital marketing tool.
That's why if you're a business without an email marketing strategy in 2023, you are leaving money on the table.
Don't know where to start? Start with what works.
Whether you're a B2B or B2C business, here are 5 email newsletters that you need to start following to drive more email marketing sales.
1. Drayton Bird (B2B)
One of the godfathers of modern copywriting, Drayton Bird is a renowned marketing expert.
He has worked with numerous global brands like Ogilvy and written books like "Commonsense Direct & Digital Marketing" and "Sales Letters That Sell", which are classics in the marketing field.
Why follow Drayton Bird's email newsletter?
In his words, he "eats his own dog food."
He practices what he preaches—there's nothing he tells you that he hasn't tried first.
What can you expect from Drayton Bird's newsletters?
Drayton shares his wealth of knowledge and experience in each edition of his daily newsletter, often incorporating personal anecdotes from his experiences in the marketing industry.
They are insightful, humorous, and interactive — Drayton encourages you to reply to his emails with any questions, comments, and discussions covered in the newsletter.
Plus, Drayton offers free ebooks, marketing tips, and other resources to anyone who subscribes—giving you value immediately.
2. G/FORE (B2C)
If your email newsletter is targeted at consumers, sign up for G/FORE's newsletter.
G/FORE is a lifestyle brand primarily known for its luxury golf apparel and accessories—luxury shoes, clothing, and more.
Why follow G/FORE's email newsletter?
Even if you don't run a luxury business, you could learn a little something from this newsletter.
G/FORE caters to what their audience want to see with its gorgeous designs, direct copy, and exclusive updates.
What can you expect from G/FORE's newsletters?
Simply put, these emails look beautiful—just like the luxury products they are selling.
The seamless visual design of the emails features beautiful pictures of their products that leap off the screen, with concise copy that clearly communicates G/FORE's brand values.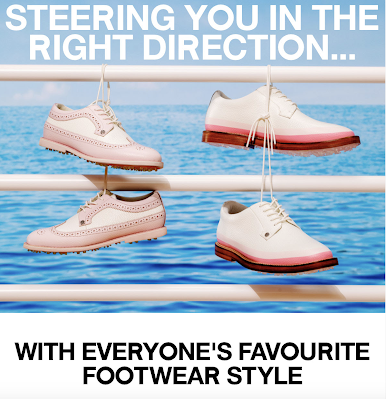 Expect product launches that let you in on key details that explain why their newest product will be a fit for you.
You can also expect exclusive sales, seasonal products, relational emails and more—everything you need to keep you in the loop with their brand.
3. Drunk Elephant (B2C)
Another example of a great B2C newsletter, Drunk Elephant is a skincare brand known for their clean and effective skincare products.
Why follow Drunk Elephant's email newsletter?
If you want a company that knows how to engage with its target audience, subscribe to Drunk Elephant's email newsletter.
Drunk Elephant's target audience are those who are skincare conscious and care about the quality of the ingredients in their products.
What can you expect from Drunk Elephant's newsletters?
When you subscribe to Drunk Elephant, you can expect exclusive offers and promotions, customer reviews and testimonials, expert skin advice, and new product updates.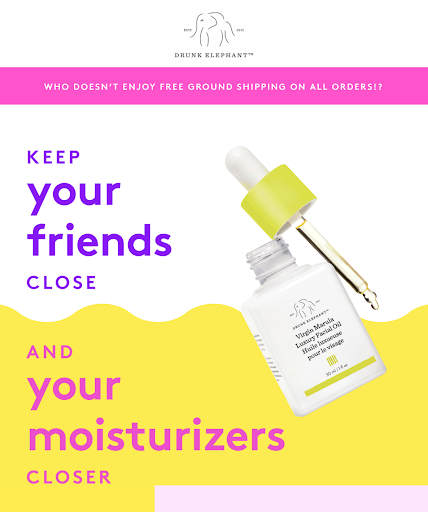 By speaking in a witty, conversational tone, Drunk Elephant keeps you engaged, entertained, and open to seeing what new offerings they have.
It doesn't hurt that the design is positively captivating, with bright colors that immersively display high definition photos of their products.
Plus, they utilize interactive GIFs to showcase their products being used in real time.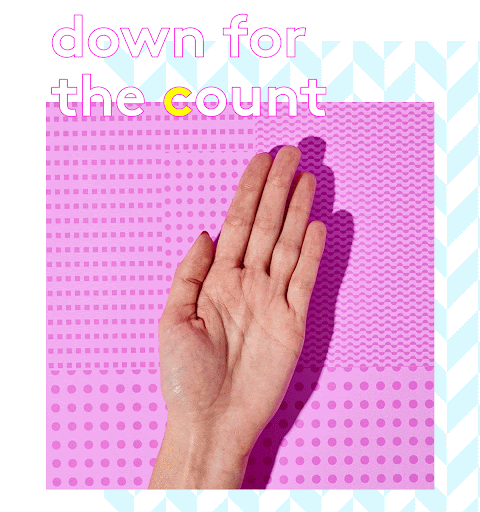 4. McKinsey & Company (B2B)
Returning to the world of B2B, McKinsey & Company is a global management consulting firm that has had a stake in the field of marketing since 1926.
Why follow McKinsey & Company's email newsletter?
McKinsey & Company's newsletters cover business and industry insights, including strategy, operations, technology, and more.
What makes their newsletter different is the wide breadth of information they give you, tailored to the different industries and topics that you are interested in.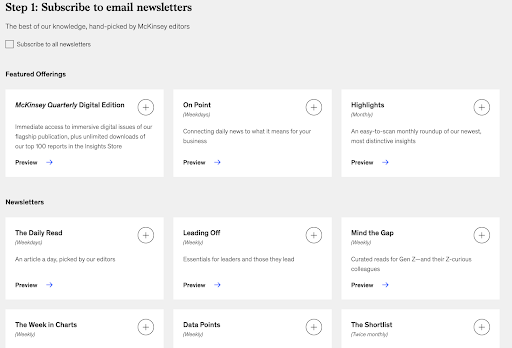 What can you expect from McKinsey & Company's newsletters?
Options, options, and more options.
Do you want a daily newsletter? Subscribe to "The Daily Read".
Want something a little less frequent? Sign up for their weekly, biweekly, monthly, or quarterly newsletters.
They even offer their newsletters in Spanish and Arabic, if that is your language.
Their newsletters vary in subject matter, from emails tailored for Gen Z ("Mind the Gap") to "The Week In Charts" if you're a more data-curious reader.
By providing a variety of options from the get go, McKinsey & Company lets its audience come to them and avoids overwhelming them from the get-go with too many emails.
5. MOO (B2B)
MOO is a company that specializes in printing and design services, primarily focused on producing high-quality business cards, promotional materials, and personalized stationery.
Why follow MOO's email newsletter?
Well, first of all, it's called the MOOsLETTER—get it?
As you can tell, MOO brings a unique sense of humor that goes against the grain of what you'd expect from a B2B email newsletter.
And they do it with insightful information that's accessible to read on any device.
What can you expect from the MOOsLETTER?
Did you know that 55% of emails are read on mobile devices rather than computers? Yet so many emails are only designed with desktop readers in mind.
The people at MOO understand this, and they make sure each email has a simple, readable format.
They're not just simple—they're fun, filled with eye-catching GIFs and aesthetically pleasing pictures that break the mold of what you'd expect in a B2B email.
Accessibility aside, the content of the newsletters is insightful, highlighting industry trends before they become trends and giving tips on how to utilize their products to enhance your business.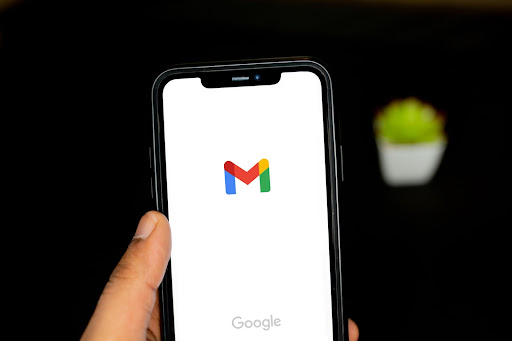 Work With A Partner Who Gets It
Are you interested in taking your business's email marketing to the next level?
At eAccountable, we have experience growing B2B and B2C brands' email marketing channels up to +863% YoY—and we can do the same for yours.