Prime Day this year was muddied from the start. The initial COVID-19 outbreak pushed back Prime Day from its original dates in July to "TBD". We then heard from Amazon that Prime Day was set for October 5th. It was not until weeks before that the dates changed yet again, and the official dates were set for October 13th and 14th.
Experts could not predict how one of the biggest shopping days of the year would turn out… On one hand you had the "optimists" predicting this would be the biggest Prime Day ever, citing that consumers have shifted to more online shopping over the past 6-months, and are eager and ready for big spending. On the other hand you had the "doubters" who said that Amazon was doing a poor job of promoting Prime Day through paid media, consumers didn't have the purchasing power, and it was expected to be a "total flop".
Below I will outline who was right, and how Prime Day 2020 ended up shaking out…
The Results
Digital Commerce 360 estimates that Amazon Prime Day 2020 sales hit $10.4 billion – up from $7.16 billion (+45.2%) over Prime Day 2019 and from $4.19 billion (+148.2%) over Prime Day 2018.
In addition, Amazon themselves reported that small and midsize businesses that sell on its marketplace made more than $3.5 billion during Prime Day, which is a 60% increase from last year's sales.
This comes as a big surprise, as it indicates Amazon's 3rd party sellers actually grew more Year-over-Year than Amazon's own branded products and private label goods!
Amazon drove $900 million in sales for small businesses with a special "spend $10, get $10" promotion taking place in the weeks leading up to Prime Day for customers who purchased from a small business. Prime members earned tens of millions of dollars through this promotion.
Prime Day's Biggest Winners
Reported by Channel Advisor, it was no surprise that the highest grossing category during Prime Day was Consumer Electronics. Globally, the most popular item purchased on Prime Day was the Echo Dot, which is now out of stock until December – apologies if you missed the chance to buy one.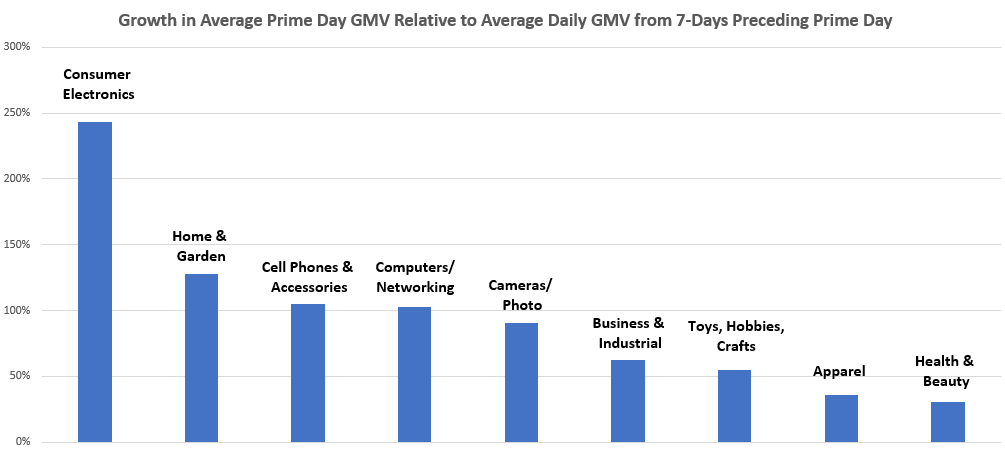 Outside of electronics, eAccountable saw increased sales and traffic in the Automotive and Home and Kitchen category on Amazon.
Halo-Effect
This year was further proof that Prime Day has a halo-effect on the entire ecommerce ecosystem. ROI Revolution first reported "Online sales for non-Amazon retail sites in the U.S. grew 76% on the first day of Prime Day 2020 compared to the first day of Prime Day 2019."
In addition, eAccountable is reporting affiliate traffic saw an increase of 12% in gross sales during Prime Day when compared to the two days before. Furthermore, affiliate clients saw an increase of 5% in affiliate during Prime Day when compared to Prime Day 2019.
Conclusion
While this year may have been muddied from the start – with date changes and a big lack of paid media spend to promote Prime Day – Amazon still surpassed $10 BILLION in sales, hitting their all-time high for Prime Day.
Whether you're a believer in Amazon or hate what they're doing, the results from 2020 highlighting the power of the Amazon channel, and the effect it has on the entire ecommerce ecosystem.
Interested in learning more? Reach out to us and we can set up a time to answer any questions you have about selling on Amazon and more.