The Federal Trade Commission (FTC) is working with Yotpo and other product review platforms to ensure all brands are creating a trustworthy experience for consumers by focusing on fair practices for product reviews. For the purpose of this blog post, we will focus on how Yotpo is working with the FTC to promote an authentic review experience through new review moderation practices.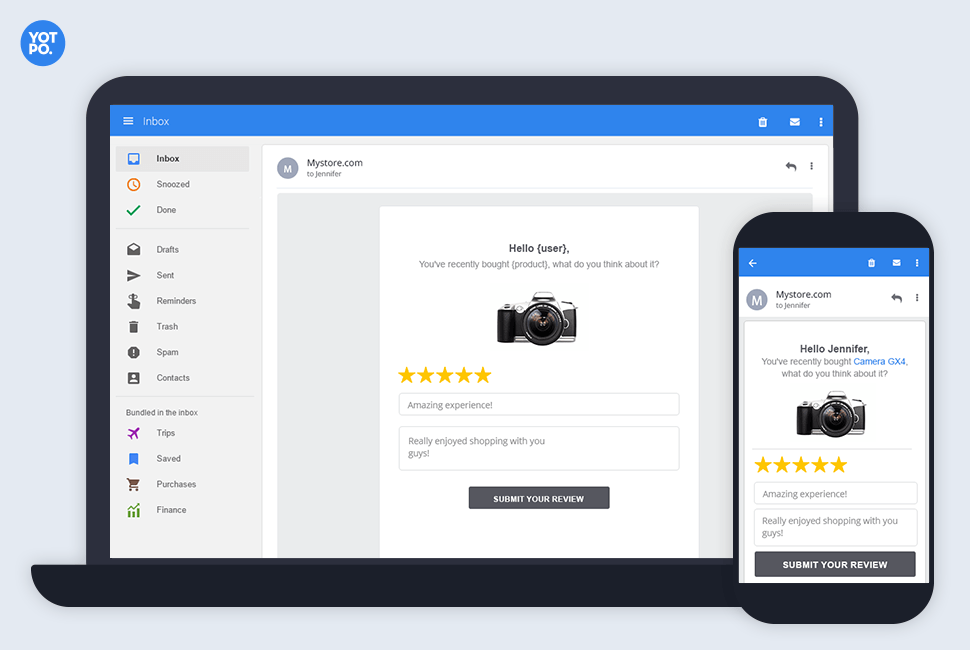 Authentic Reviews Experience As you can imagine, almost all brands and products receive negative feedback from unhappy customers. Up until recently, brands on many platforms could automatically hide any negative review under a specified rating threshold (i.e. every review under 3-stars is hidden) without any further action. You can see how this can be misleading to prospective customers as they aren't getting the full story! It is important to provide an authentic reviews experience, which includes publishing the bad reviews alongside the good ones.
Yotpo has worked with the FTC to create a moderation process that is fair to both consumers and the brands utilizing review platforms. While showing both the good and bad reviews promotes an authentic buying experience, brands still maintain a certain level of control over the review content. Review content needs to be an accurate representation of customers' opinions, but it is also important that brands have the ability to reject reviews, as long as they are dealt with in a timely manner and for legitimate reasons.
What does this mean? Any brands using an auto-publish feature on their review platform will need to update moderation processes. This auto-publish feature allows brands to set a rating threshold by which reviews are published. For example, any reviews with a 4-star rating or over are published without moderation, while 3-stars and under are not.
For brands on Yotpo specifically, this means all product reviews under the auto-publish threshold will need to be moderated within 14 days of submission. Within the first 14 days, a review can be published to the site or rejected and will not appear on the website.
This means all reviews will be published in a timely manner, whether they are positive or negative, unless specifically rejected for any of the reasons below.
The FTC states that brands can reject reviews that:
Contain unlawful, harassing, abusive, obscene, vulgar, or sexually explicit content
Are inappropriate with respect to race, gender, sexuality, or ethnicity
If a review is unrelated to products or services
Contain confidential or private information, clearly false or misleading, or have been written by a competitor
Benefits of Publishing Negative Reviews The criteria for which the FTC allows you to reject negative reviews will likely not encompass every negative review that your brand receives. If you find yourself with more negative feedback on your page than before, no worries. Believe it or not, there are benefits to publishing negative reviews:
Over half of consumers seek out bad reviews (53%) for a product they're interested in, and they trust reviews more when they see both good and bad feedback.
If reviews are all positive, 95% of consumers believe the reviews are either fake or that the bad reviews are suppressed.
When shoppers see both positive and negative content, 68% trust the reviews more than if they had only seen positive content.
Platforms like Yotpo offer the brand the opportunity to respond to negative reviews and publish that feedback. That adds tremendous value for new shoppers doing research.
Leveraging Good & Bad Reviews for Growth If your brand is now publishing more negative reviews than ever before, it is important to know that your brand's integrity or ability to sell is not necessarily compromised.
Try and identify a common thread across all of your negative reviews. Maybe the majority of negative reviews are in regards to your products longevity? Or the shipping time? If you can pinpoint a common denominator across your bad reviews, you can make the necessary adjustments to ensure that future customers do not have the same experience that brought previous customers to share their negative feedback. 
Interested in learning more? Reach out to our team at eAccountable here and we'll set up a free consultation to discuss your unique needs.