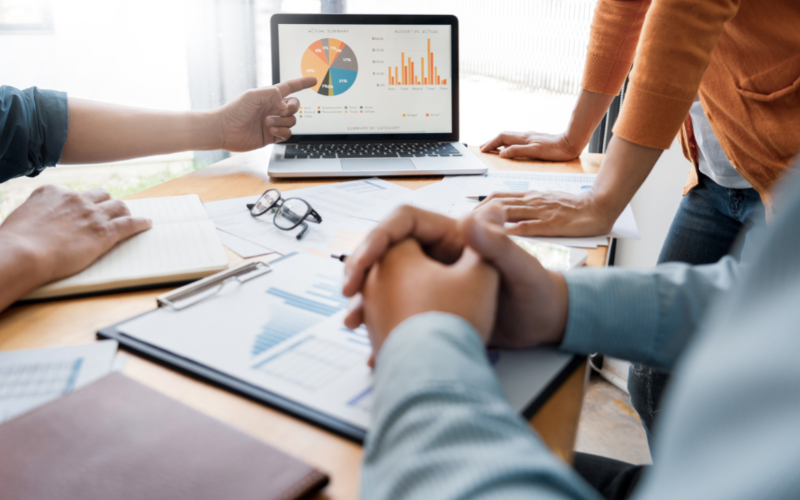 Getting results with digital marketing is far from easy.
And doing the wrong thing can be very costly.
While there are many things standing in the way of your digital marketing success, here's your three biggest challenges. And crucially, how to conquer them.
1. Your competition
Competition is the largest obstacle to your growth in digital marketing.
A record number of companies are moving online. Making your digital marketing more expensive and less lucrative.
Ben Jarraway, the founder and CEO of Privy, says that some brands are spending five times as much on digital ads to maintain their traffic volume.
What to do?
Most businesses focus their marketing efforts on people who are ready to buy.
At first glance, this may sound like the right thing to do: Why would you try and sell to someone who doesn't want to buy?
However, it's often too late. By this point, your potential customer has already got a particular brand in their mind.
So you need to enter the fray earlier and build a strong brand.
A strong brand makes performance marketing more effective in the short term. It's also your foundation for sustainable growth.
Want to lower your acquisition costs?
Be ruthless with your advertising in two ways.
1. You must measure.
Then weed out or improve what isn't working as well as it should.
2. Diversify.
Try channels you've not used before – don't forget to measure.
Finally be sure to highlight your unique differentiators and values at every place your prospects and customers interact with you.
If you'd like help beating your competition and lowering your acquisition costs, get in touch.
2. Cookies and personalization
There's two reasons it's getting harder for you to use personalisation in your advertising:
1. New privacy laws
2. The big players cutting their support for third party cookies
According to Shopify's 2021 Ecommerce Market Credibility Study:
One third of technology decision makers expect these changes to hinder their growth.
What's more, consumers are more privacy aware. Respected technological research and consulting firm, Gartner reports:
Consumers are three times more likely to abandon brands that over personalise compared to brands that fail to personalise enough.
There is some good news about personalisation though. The Shopify study I just mentioned found:
Half of consumers are OK with brands they like using their data.
How do YOU become a brand they like?
If you want to use people's personal information, once you have it only use it in a way which builds trust.
For example, foster a health community and appeal to shared values. This way you can achieve the relevance your customers want – without the privacy concerns.
But you must be sure to get the right people to work with you to grow your community.
They'll help you:
Give members a reason to keep coming back
Create a feeling of exclusivity
Give your members a chance to own a piece of your brand
3. Social commerce
"A typical user spends about 15% of their waking life on social media"
– Global Social Media Stats, Datareportal
The same document also expects sales from social media to nearly triple worldwide by 2025.
So clearly you need your brand advertising on Facebook, etc.
However, view these sites as just another place to advertise at your peril. You'll hit the same ad spend ceiling I mentioned earlier and miss out on what makes social media unique.
Here's how Yulie Kwon Kim, VP of Product Management at Facebook, describes it:
"Shopping is entertainment. You don't have a specific thing to buy, but you want to go see what's new out there. What are the trends? You want to be able to see a little bit more about the brand than just a single image and a web page"
The real opportunities in social commerce are to use chat, video and live streaming. These bring the interactive elements of offline shopping to online.
And this makes sites like Twitch, Instagram, TikTok and YouTube perfect places for your brand.
Five ways to be a smash on social
1. Create a live ecommerce experience tailored to your audience.
2. Experiment with channel and format.
3. Make your social commerce experience convert by formatting videos so they're "shoppable."
4. Create a storefront directly in social.
5. Develop an attribution model so you can measure.
Get In Touch
Need some help getting your social sorted? Drop us a line.
These are just three of the many ecommerce challenges that face you.
For help with any or all of them, we need to start by having a chat.
Talking doesn't cost you a dime. And my advice alone could make you a packet.
So if you're interested, why not get in touch now – before something else distracts you?