Contemporary situations are pushing more and more retailers to go digital and transition their businesses onto various online platforms. It doesn't matter whether the enterprise is a startup or a Fortune 500 conglomerate, the process isn't as simple as most people think. That's where eAccountable comes in.
As a digital marketing agency in Denver, our expertise lies in making the digital experience work for the unique voices of our partners. In an industry where results can take months before becoming measurable, it's easy for either the vendor or the company to get disheartened and move on to other ventures.
This is where eAccountable's expertise comes into play as we always work to give our partners the results they're looking for regardless of what obstacles we run into during the process. Case in point one of our latest project with Cycle VIN LLC.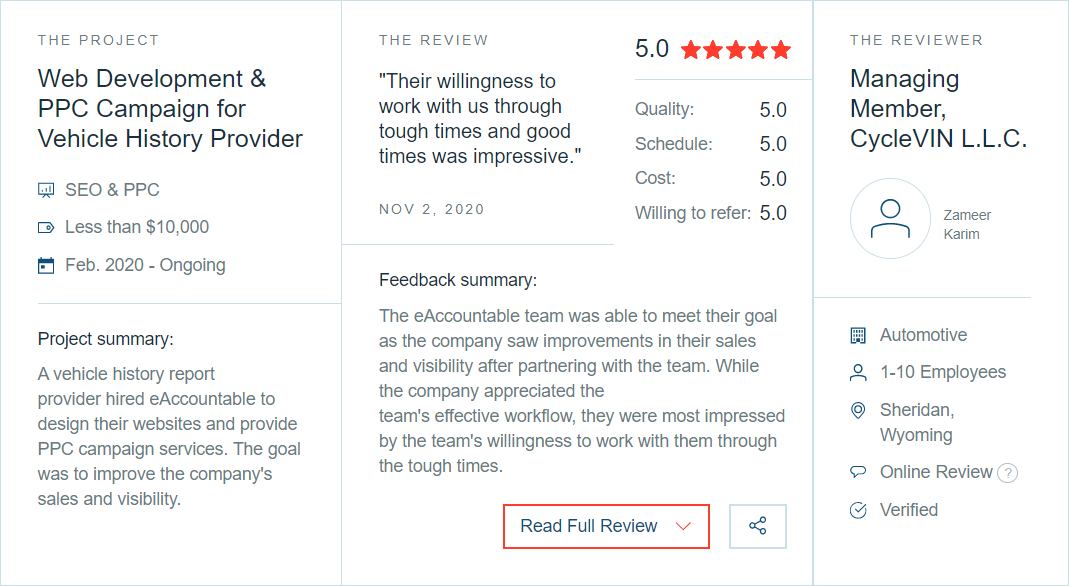 Our team at eAccountable designed their website and managed their PPC campaigns in order to get them more sales and make them easier to find online. Considering the niche nature of their service, getting the numbers they were looking for wasn't always easy.
"Their willingness to work with us through tough times and good times was impressive." — Zameer Karim, Managing Member of Cycle VIN LLC.
The team took the time to learn the industry and understand the kind of people that would look for their services. With all of that studying, we managed to successfully put together a series of campaigns that improved Cycle VIN's online visibility and subsequently their conversions as well. 
This review can be found on Clutch, a B2B ratings platform that is a go-to resource for businesses looking for other companies that can provide specialized expertise such as ours. This submission also allowed us to be included in a list of notable projects and awards on The Manifest, a company compiler that ranks top performing businesses in each industry.
This project is a special case as it involves selling unique services to an undefined market. These are the kinds of challenges that many companies looking to shift their operations from brick and mortar to digital may not anticipate on their own.
If you're the owner of one such business, don't take the chance of jumping into this new world on your own. eAccountable has your back.
Send us a message today and we'll learn how you can make the most out of this new opportunity together.