The Challenge
Fiber Cables Direct provides a range of fiber optic cables to B2B clients across government, education, healthcare, and more. With over a million cables in stock and 15 years in business, they came to eAccountable with an established consumer base and a strong brand presence.
Despite their in-demand products, Fiber Cables Direct struggled to optimize their Amazon presence, leading to a lag in sales.
Limited FBA storage was their greatest challenge. This created a bottleneck in the Fiber Cables Direct supply chain: They had products to sell, without the inventory space on Amazon to sell them.
Their inventory capacity was further hurt by low-performing products—which not only consumed valuable real estate, but also led to additional storage fees.
Our Solution
eAccountable implemented a multi-faceted plan to help Fiber Cables Direct increase their sales.
Optimized FBA Inventory
To optimize Fiber Cables Direct's FBA inventory, we:
Identified the top-performing and low-performing products currently in FBA inventory
Removed products that weren't selling and replaced them with the top 20 bestsellers
Maximized the inventory limit for each best-selling product
We also supported the Fiber Cables Direct team on identifying and executing new shipments to FBA, including how to determine quantity and understand costs before sending inventory.
Improved Discoverability
Our support for Fiber Cables Direct included elevating their sales potential on Amazon through the following improvements:
Refined bullet organization and A+ content for more robust product descriptions
Improved leaf nodes for greater product discoverability during browsing
Updated business pricing to reward B2B buyers for bulk orders
Better coordination with Amazon reps to address low IDQ scores
Stronger Amazon Advertising
To boost traffic toward the recently-optimized Fiber Cables Direct page on Amazon, we made changes like:
Integrating Sellozo optimizer to hit ACoS targets
Boosting competitiveness via sponsored brand and display ads
Setting up keyword and bid updates for better product visibility
Taking advantage of easy sales opportunities through low-cost campaigns
The Results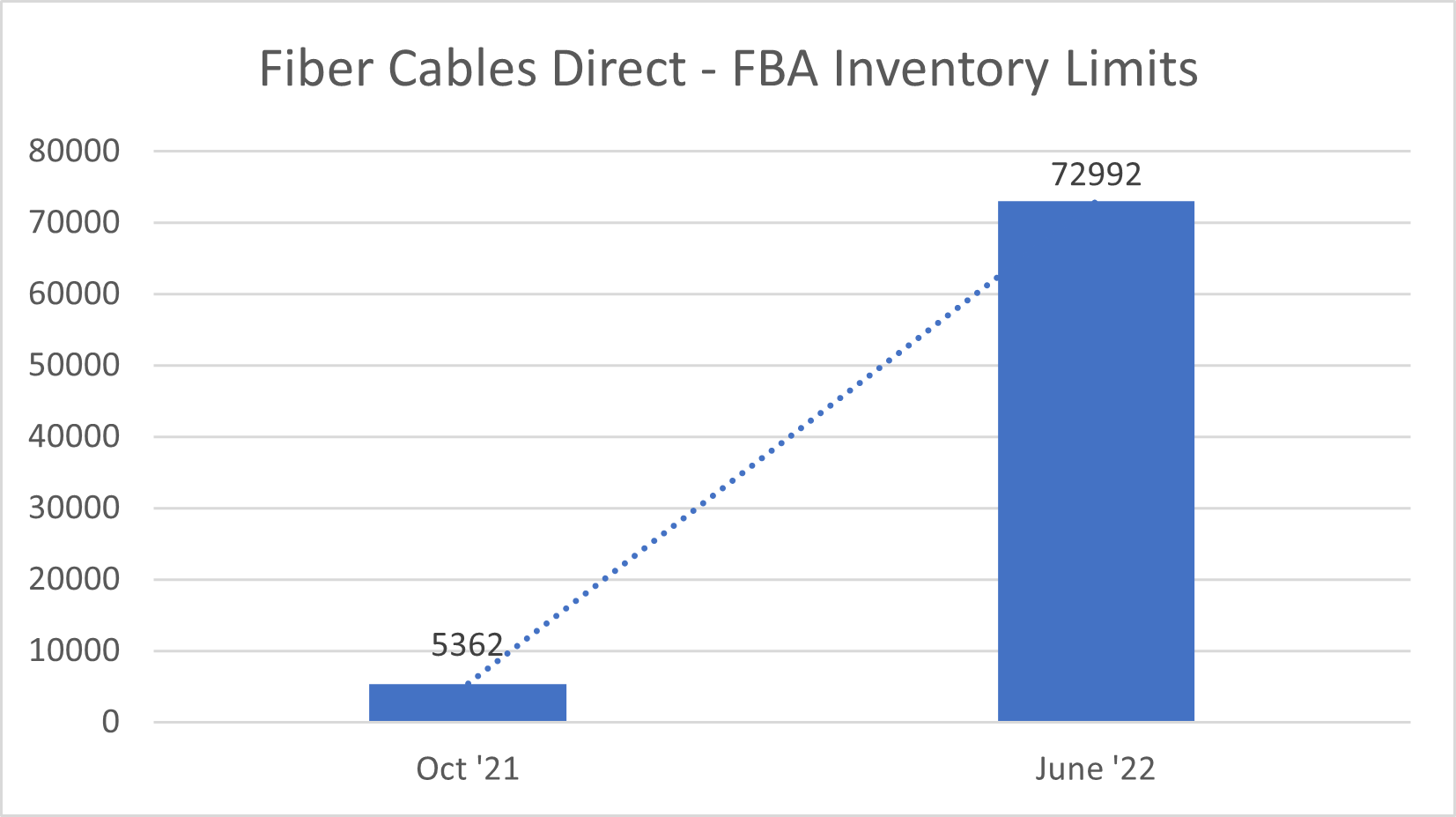 eAccountable's efforts toward the Fiber Cables Direct Amazon channel drove immediate impact:
Improved product turnover to expand FBA capacity by 68,000 units (+1360%)
+2,008 more units listed in 30 days
370 more orders placed and 849 buy box wins in 30 days
Higher B2B Sales
With a +1360% increase in FBA limits and a new B2B pricing structure, sales improved drastically:
B2B sales increased +23% ($60k) YoY
600 more units were sold
Total sales spiked 14%
Additional Benefits
IDQ Scores lifted from the low 60's to over 85
Improved IDQ scores made listings rank stronger and become more searchable
Defensive campaigns have 163 sales at $16.54 RoAS
Catch-all campaigns have 34 sales at $34.30 RoAS
ACoS dropped 11% in the last 60 days
While these strategies we implemented were clearly a strong factor in the growth of the Fiber Cables Direct business, our team at eAccountable couldn't have optimized this Amazon channel without the time and effort put forth by the Fiber Cables Direct Team. Their dedication to maintaining a collaborative partnership allowed us to maximize the potential of their Amazon channel. We look forward to continuing to help grow their business as we continue to work together.
About eAccountable
eAccountable is a digital marketing agency headquartered in Denver, Colorado. For more than two decades, online retailers have partnered with us to increase revenue, acquire new customers, and build brand loyalty. Through an integrated omnichannel digital marketing approach, we have helped clients across many industries recognize quick and extremely profitable results.
If you're interested in learning more about how eAccountable can help you improve FBA inventory limits and maximize your Amazon channel for more revenue, drop us a line.