84% of consumers report making a purchase decision because of an influencer's brand recommendation. Are influencers recommending your brand?
What is Influencer Marketing?
Influencer marketing is the process of identifying individuals with a large blog and/or social following and empowering them to say good things about your brand.
Through their blogs, social media, videos and photographs, influencers are constantly showcasing their favorite brands and recommending them to their followers.
There is nothing that can move the needle quite like someone shining a spotlight on how unique and valuable a brand is in an authentic way. And, that's where influencers come in. Consumers trust influencers and your brand should too.
These brand recommendations go directly to an influencer's followers and they also show up in search results when consumers are seeking out real recommendations for a purchase decision. This makes influencer marketing a crucial part of your strategy.
Why Influencer Marketing?
Certainly you've heard that consumers are "ad-blind" and this has left brands scrambling to find ways to get their brands in front of their target consumers. But, what if we told you there was a sure way to get your brand in front of your target consumers and that it's even more affordable than other types of advertising?
This is where influencer marketing comes in.
Consumers rely on their peers to make purchase decisions and learn about new products and luckily, influencers are viewed as peers by consumers. With ads not having the strength they once had and with consumers not trusting a brand's own recommendations about themselves—influencers are the key to getting the word out about your brand.
Influencers have the ability to highlight brands and authentically weave their brand experience into their content providing brand awareness, engagement, conversions and even sales.
Usually, consumers consult reviews before buying a product that is new to them instead of going directly to a brand's website. So, your brand should be flooding the marketing with influencer generated product reviews.
Get a Free Influencer Marketing Audit!
Whether you already have an influencer marketing program running or you're interested in implementing this type of marketing, reach out to us today for a free influencer marketing audit. We will uncover powerful influencers who can partner with your brand and offer strategic advice on working with influencers to increase brand awareness and generate sales.
How Does Influencer Marketing Helps Brands?
With the evolution of adblockers and the fact that consumers don't trust information from a brand itself, influencers provide a way for brands to get in front of their target consumers. Here are a few ways influencer marketing can power your brand:
Reusable content for social media, website, blog posts, testimonials and more
Brand awareness
Sales
Traffic to websites
Content downloads
Email list subscribers
Basically, influencers can direct their audience to any areas of your brand that you are wanting to promote.
Deliverables for Influencer Marketing
When you have eAccountable on your influencer marketing team, here is what you can expect:
An influencer identification plan based on your buyer personas
A recruitment program where we find the best influencers to represent your brand
Vetting filters to ensure influencers have a content fit, a wide reach and high engagement rates
We seed influencers with brand assets and talking points about your brand
Seamless communication with our brands and our influencers
Monitoring for earned media
Reporting on campaign metrics and goals
Summary of all earned media
The Stats Behind Influencer Marketing
Don't just take our word for it, look at what data tells us about the influencer marketing industry:
89% of brands say influencer marketing is better or comparable to other marketing channels
81% of consumers turn to bloggers for advice
Influencer marketing is the fastest growing online customer acquisition method
Influencer marketing is projected to become a $10 billion dollar industry by 2020
Brands average $6.50 for every $1 spent on influencer marketing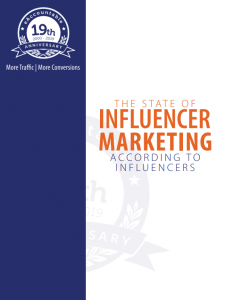 The State of Influencer Marketing According to Influencers
We surveyed over 400 influencers to get key insights into how they work with brands, what their expectations are and how campaigns run with them perform.