A well implemented affiliate marketing program typically accounts for 10 – 20% of online sales for most retailers. Last year's affiliate marketing holiday season data, taken from 100 online retail customers with annual revenue between $1M – $100M, was analyzed. The data reviewed revealed broad and statistically relevant findings which are noted throughout this report. Online merchants looking to have a successful holiday season should pay close attention to these findings and subsequent recommendations. The noted holiday benchmarks are as follows:
126% Increase in Revenue Between Black Friday and Cyber Monday
The 2017 holiday season analysis showed online affiliate sales between Black Friday and Cyber Monday up 126% compared to all other sales between October 1 and December 31. Recognizing these triple digit revenue gains requires a sound and effective affiliate marketing program. Ensure to have your affiliate program thoroughly planned and ready to execute prior to the beginning of the holiday season.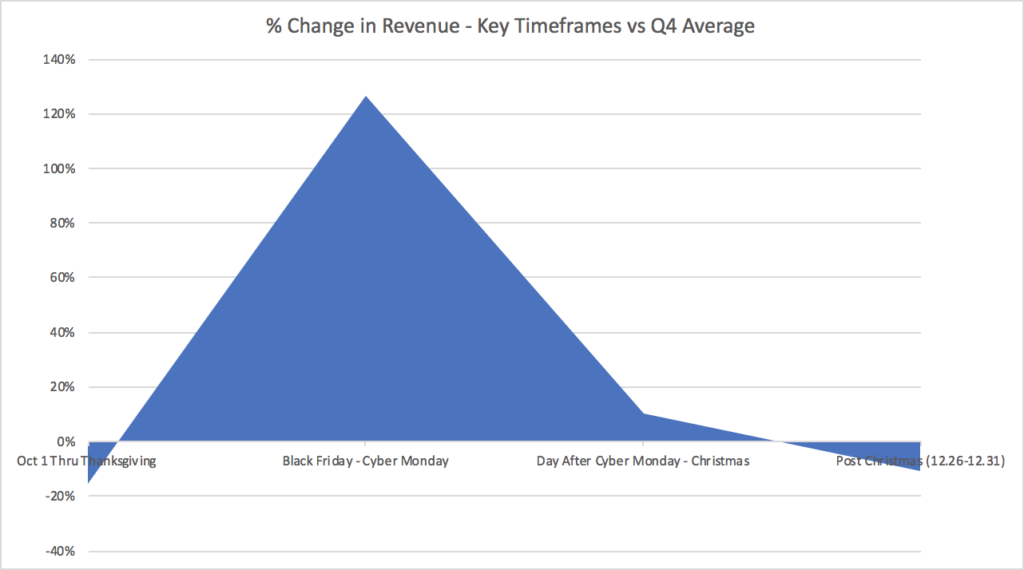 86% Improvement in Affiliate Channel Conversion Rates Between Black Friday and Cyber Monday
The conversion rate between Black Friday and Cyber Monday increased 86% when compared October 1st through Thanksgiving. It continued to remain high after Cyber Monday, post-Christmas and through the end of the year. With these large increases in conversion rates, it further points to the importance of having a strong and thorough affiliate marketing program through the end of the year.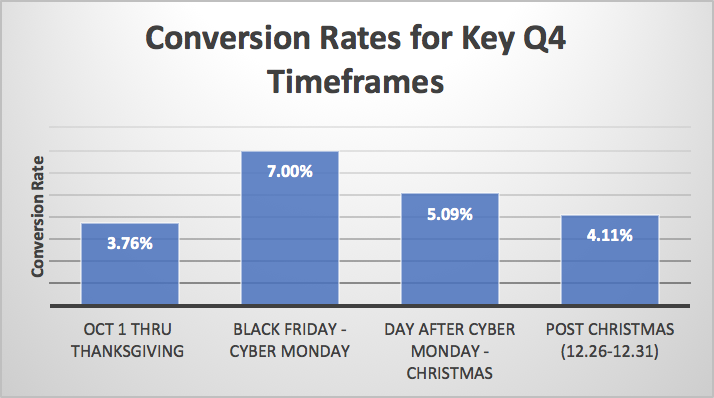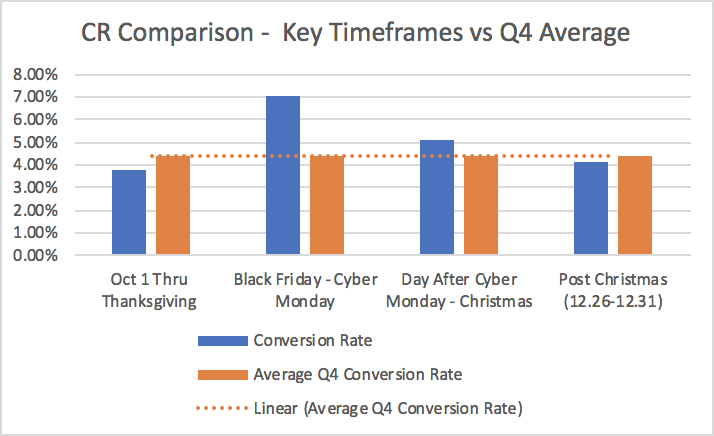 45% Traffic Increases Between Black Friday to Cyber Monday
On average, the affiliate channel helped online retailers experience a 45% increase in traffic between Black Friday and Cyber Monday, and a 31% increase between the Tuesday after Cyber Monday and the last day shipping day, when compared to Q4 traffic averages. Substantial upticks in traffic such as these are impressive. Ensure your systems, promotions and affiliate marketing programs are ready to support this surge in holiday traffic.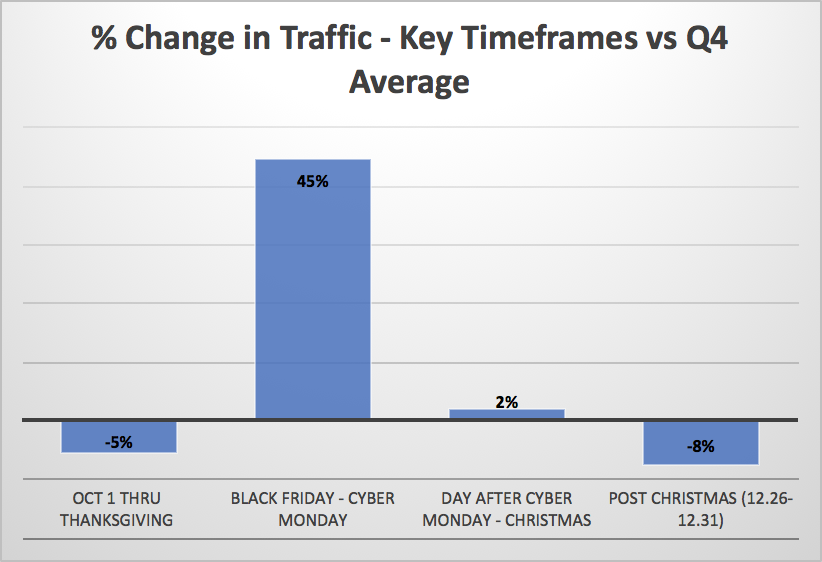 Free Shipping Drives Sales
In 2017, free shipping continued to be one of the best drivers for increased conversion rates and revenue recognition. To further support this, some online retailers participate in the annual Free Shipping Day where all shipping costs are waived regardless of cost of sale. Free Shipping Day will be held on December 14th, 2018.
As Traffic Increases Average Order Value Appears to Go Down
While average order value may go down due to increased traffic it is more than offset by improved conversion rates.



A Well Implemented Affiliate Marketing Program is Critical to Holiday Sales
Affiliate marketing programs, like all marketing programs, must be carefully planned and executed. Not surprisingly, the online retailers with the most strategically planned affiliate marketing campaigns have the strongest results. To help drive the revenue gains you want recognize ensure:
Retailer is coordinating all messaging for all audiences and online sales channels

Affiliate marketing links are up and working

Retailer has created compelling holiday content and offers

Required emails to affiliate partners are generated and sent out as early as possible and as needed – prior the holiday and during the holiday

Plans for the required ongoing tasks are ready with appropriate resources assigned.
Leverage Other Lesser Considered Days in the Season
Yes, Black Friday to Cyber Monday show the most impressive numbers. There is also significant revenue to recognize in creating content and promotions around other holidays such as:
Small Business Sunday

11/24/18

Giving Tuesday – The day to give to charitable organizations.

11/27/18

Boxing Day

12/26/18

Super Saturday – The last Saturday before Christmas.

12/22/18
Longer Duration Promotions
A sense of urgency, with one to two day sales, is a proven mechanism to drive revenue. The analysis of 2017 holiday trend data also showed longer promotions, such as a 12 Days of Christmas promotion, with the 12th day landing on the last day to get items shipped prior to the holiday, proved to be successful as well.
Conclusion
There is no doubt that Black Friday and Cyber Monday is a huge driver of holiday sales in the affiliate channel and it is a key component of many retailers of many retailers online marketing strategy. Making sure all of your online marketing campaigns are coordinated, timed and relevant to your target market is crucial to succeeding at this time of year.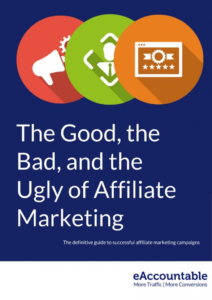 Want to make sure your holiday season affiliate marketing program is creating 10 – 20% of your online revenue? Contact us at 866-209-0669 or download The Good, the Bad and The Ugly of Affiliate Marketing.