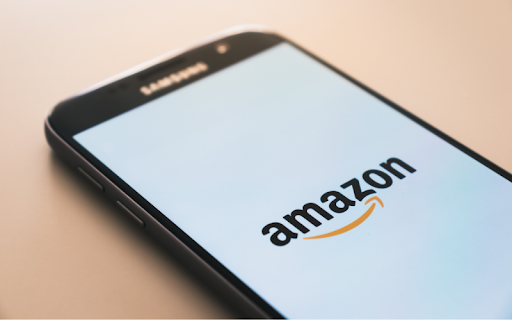 What makes a great Amazon listing? If your business has an active Amazon channel, then you should be asking yourself this question.
Amazon is the world's biggest online marketplace, and it gives you the opportunity to reach thousands upon millions of new customers who are ready to buy. When creating content that sells well on Amazon, you need to consider Amazon's algorithm. Like any search engine (i.e. Google, Bing, etc.), Amazon's algorithm has its own unique rules and regulations that you can tailor your content to in order to have the highest reach.
Different Parts Of An Amazon Page
There are a lot of factors that go into a best-in-class, fully optimized Amazon listing. Here are the main ones you need to focus on:
Title
Key Product Features
Images
A+ Content
Search Terms
Without further ado, let's jump into each of these factors so you can learn how to make the best Amazon listing ever!
Title
First, let's start out with our rules and best practices for Amazon listing titles:
A title can have a maximum of 200 characters
A good 'equation' for a listing is: '[BRAND] [PRODUCT] – [Another Way To Say What It Is] | [BENEFITS] | [USE CASES]'
When writing a title – make it so the average consumer can understand what you're selling in 5 seconds or less.
Here is a BAD example of a product title:

And here is a GOOD example of a product title:

You might be wondering, "What makes the first one good and the next one bad?"
Let's take another look at our product titles. The BAD listing only tells you the bare minimum—that it's 2.25 pounds of Chicken Treats. The GOOD one clearly lays out the benefits—it's 2 pounds of organic, non-GMO, corn-free, soy-free, and non-medicated Chicken Feed that is grown in the USA.
If you had to pick between the two just based on the title, which one would you choose? The second, of course.
When you're writing a title, why not use all 200 characters if you have them? Write a long, descriptive product title that clearly states what your brand is, what the product is, what it's benefits are, and how your customer can use it.
Think of your title as your "sparknotes" for the product. Many Amazon users are shopping fast, so give them the information they need right away because they might not read all of your key product features. Your title is a key place to include important search terms that will broaden your listing's reach.
Key Product Features
Your Key Product Features tell your customer in detail why they should buy your product. Here are the rules and best practices:
5 Bullets – 500 characters maximum per bullet
Total characters allowed: 2,500 characters
Each bullet should highlight the key point (in ALL CAPS) of what is in that bullet. Here are some basic examples:

GREAT TASTE: Our great tasting vanilla toothpaste will get your kids brushing without a fuss.
QUALITY YOU CAN TASTE: At Wendy's, we ensure our chicken nuggets are made fresh every day so you can enjoy a healthy and quality snack.
Here is a BAD example of Key Product Features on a product listing:

Here is a GOOD example of Key Product Features on a product listing: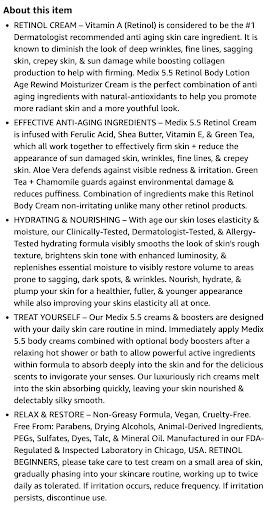 Let's take a look at the examples. The BAD listing uses only four bullet points and 283 characters out of the allowed 2,500 to tell you the bare minimum about what makes their product different from the competition. The GOOD listing uses ALL CAPS to highlight their benefits (EFFECTIVE ANTI-AGING INGREDIENTS, HYDRATING & NOURISHING, TREAT YOURSELF, RELAX & RESTORE) while going into key details that someone doing their due diligence would want to know before buying an anti-aging cream. They utilize 2,436 characters out of the allowed 2,500 to improve the listing's searchability while providing substance to the product's value propositions.
When you are writing your Key Product Feature, remember that some products will need more copy than others. For example, apparel products are more visual and therefore require less copy. Car detailing products require more copy to explain all the uses and applications.
Think about what your listing needs to say and what your customer needs to know about your product.
Images
Images are extremely important on Amazon. They show your customers why they should buy your product versus the competition.
Here are the rules and regulations for images on your product listing:
You have up to 9 image slots available on Amazon
A few rules:

Products must fill at least 85% of the image.
Main images must have a pure white background and be a photo (not a drawing).
JPEG is the preferred image format.
Here is a BAD example of an image on a product listing: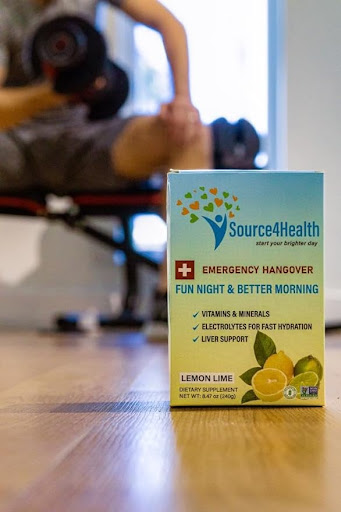 Here is a GOOD example of an image on a product listing: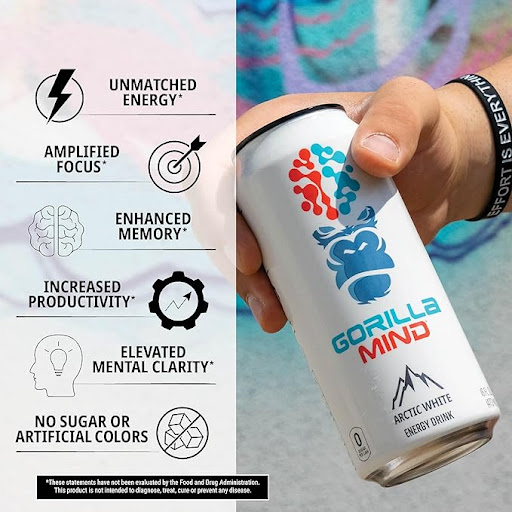 Let's take a look at the examples. The BAD listing uses a low quality, blurry lifestyle image where it is hard to see the product, its benefits, or how you would use the product. You can really see the product box and it's unclear why the person is lifting weights instead of applying the product. The GOOD listing uses a much clearer, high quality lifestyle photo that clearly shows the person holding the product with clear text and icons explaining the product's benefits.
Additionally, you want to remember to use images that are easily readable on both the search page and the product detail page. This especially applies to infographics—make sure they are readable.
A+ Content
What is A+ Content?
A+ Content is enhanced image and video content where brand owners can tell their brand story through the product description. To create A+ Content, your brand must be registered. It lives below-the-fold on an Amazon Product Detail Page, and it replaces the "Product Description".
There are three ways to do A+ Content well. You can:
Create content about the specific product on the page
Create content about the brand in general
Create content that emphasizes the brand and the product description (This is recommended)
Here is a BAD example of A+ content: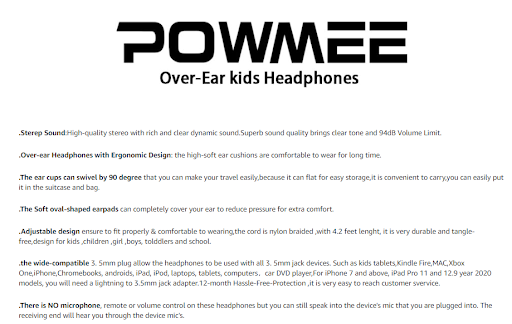 Here is a GOOD example of A+ content: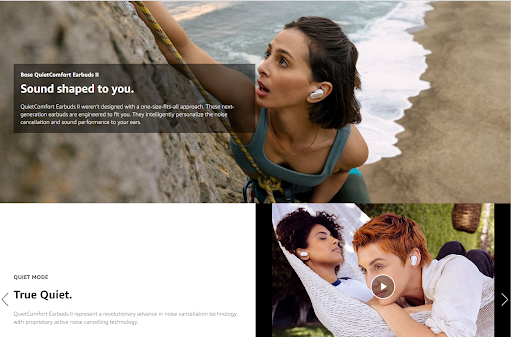 Let's take a look at the examples. The BAD listing's A+ Content lacks image-based content at the beginning, which immediately reduces engagement. As you scroll down the page, you begin to see what is preferred, which is text-overlay combined with lifestyle imagery. However, the movement from module to module is inconsistent, making it difficult to follow and understand.
The GOOD listing features a beautiful Premium A+ content section with clearer lifestyle photos with copy designed to highlight the product value propositions. The use of 'actionable' modules, allows to customer to click and better engage with the content in front of them. Simple, engaging, and relevant to the purchase.
Remember, with A+ content, you don't want to repeat what you already said in your bullets. This is a space for additional content and imagery where you can be creative and also incorporate your brand's story.
There is search engine optimization (SEO) value here. Not a lot, but better than nothing. Keep using keywords you want to rank for and it will help your product show up in the search engine.
Search Terms
The last thing you need to consider about a product listing page is the search terms you input.
Remember, search terms are not visible to the consumer, so this is behind the scenes SEO work.
Search terms allow you to increase your SEO value on keywords you think will be beneficial for your product. To update your product's search terms, you have to click 'edit' on a listing.
Here are the rules and best practices for your search terms:
250 maximum characters
No repeat words
No commas
Phrases and order of words don't matter
Here is a BAD example of search terms: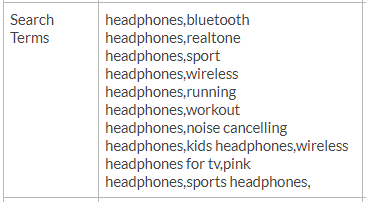 Here is a GOOD example of search terms: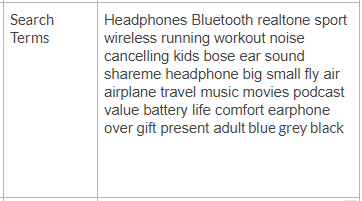 The BAD example repeats headphones more than 10 times, when it only needs to say it once. It adds unnecessary commas and doesn't include any competitor product names.
The GOOD example uses outside-the-box terms, targets competitors, puts where the product might be used (i.e., home, school), and what the product is used for (i.e. sports, running, etc.).
Remember, your search terms are supposed to help increase your organic SEO reach so your product can reach more potential customers.
One more thing–if it's a plural of a word (i.e., headphone vs. headphones), Amazon DOES count each one uniquely.
Work With An Expert Amazon Team
As you can tell, a LOT goes into making a great Amazon listing for your product. You could do it yourself, but wouldn't you prefer having an expert team do it for you?
With over $200M in accounts managed annually, our hands on account managers will help you optimize your product listings and grow on the Amazon marketplace. Drop us a line here if you're interested in a free consultation.