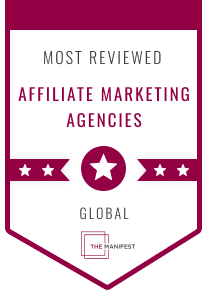 The Manifest has recognized eAccountable as one of the most-reviewed Affiliate Marketing companies globally.
At eAccountable, we're committed to helping clients drive profitable revenue. We support organizations to optimize their marketing and advertising so that they can scale their business. We craft custom advertising strategies and manage the execution of all campaign types including affiliate marketing, SEO, paid search, Amazon, email, direct mail, and more.
Today, we're happy to share that we're among the leading vendors on The Manifest, the platform where you can look through directory pages. In their latest findings, we're hailed as one of the most-reviewed affiliate marketers in the world.
Since 2001, we've been trusted partners to 432 companies in fashion, supplements, custom print, luxury goods, pet products, and everything in between. The approach is simple and always the same: a relentless focus on growing profitable revenue. Making this happen is, of course, more complicated. What needs to be done differs for every product, service, or client.
To win this award is truly an honor.
The secret to our success in affiliate is that we don't just specialize in affiliate. The industry has changed a lot. It's more than ever to have affiliate work with the other channels. Driving profitable revenue doesn't happen when you execute across one medium.
"It is one of the best-run agency relationships I have." — Tim O'Connor, CMO, Excelligence Learning Corporation
"Our sales have been increasing monthly and they have been doing a great job of writing our A+ content and updating our images." — Katy Dutt, Brand & Marketing Manager, HealthRight Products, LLC
"We have a very high ROI (anywhere from 10:1 – 13:1) and revenue has increased YoY. The results exceeded our initial goals and expectations." — Director of eCommerce, Outdoor Power Equipment Company
Thank you for the wonderful reviews. Learn more about our projects by visiting the latest company list on The Manifest.
For inquiries about our solutions, please get in touch.