There is an art and a science to improving your Amazon conversion rate.
It looks something like this:
SEO-friendliness (Science) + Consumer-friendliness (Art) = Increased Conversions
Now, this is a winning formula for a reason. Here's the breakdown:
The Science Behind Your Amazon Conversion Rate
SEO is short for Search Engine Optimization. The term was coined by Google, and is the process of optimizing product pages for searchability. Taking this one step further, it is the process of adding relevant keywords and information to your product pages.
Amazon SEO is the 'science' part of the equation above.
To improve the searchability of your product pages, you need to add relevant, and high-volume keywords to your product pages.
So, finding and adding the right keywords is critical.
At a high level, keywords that are too 'broad' can lead to a bad conversion rate, which hurts your searchability. On the other hand, keywords that are too 'narrow' will make it incredibly difficult for consumers to find your product.
Finding this middle ground is NOT a guessing game.
Rather, eAccountable utilizes top of the line tools like Jungle Scout, Helium10, and MerchantWords, amongst others, to identify the right keywords for our Amazon clients.
The Art Behind Your Amazon Conversion Rate
Consumer-friendliness is the 'art' part of the equation above.
In order to succeed on Amazon, your content must be engaging, easily readable, and simple enough for the general public to understand.
While your Amazon conversion rate is influenced by product searchability, you also need the product page to be consumer friendly.
Ask yourself:
Does this page make sense?
Is each bullet point conveying a specific message?
Would the general public understand what I'm selling?
At the end of the day, a product page that has all the right keywords will not convert optimally if the content is unengaging or difficult to read. A product page with engaging content that lacks valuable keywords isn't going to be found.
For this reason, conversion requires both pieces of the equation to work together.
The end result: a product that can be easily found, with engaging and valuable information.
How to Improve Your Amazon Conversion Rate
The product detail page features multiple sections, each of which can be optimized to improve your Amazon conversion rate.
Here are the 5 areas to focus on:
Product Title
Key Product Features
Images
A+ Content (Formerly EBC)
Video
In this post, we will walk through each of these sections, providing tips and tricks on how to improve your Amazon conversion rate along the way.
1. Product Title Optimization
There are two things to remember when you're writing your SEO product title:
A title can have a max of 200 characters.
This is what shoppers see when they are searching for products on Amazon.
Best Practice: Use the following formula for product title success.
[BRAND] [PRODUCT] – [Another Way To Say What It Is] / [BENEFITS] / [USE CASES]
The example below demonstrates this formula in action. The result is a clear and descriptive product title.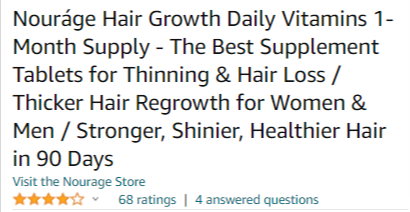 On the contrary, the following example below does not leverage the formula. The outcome is a product title that lacks detail, providing little incentive to a consumer to click through.

Amazon Product Title Do's and Don'ts
DO's
Make it easy to understand. When writing a title – make it so the average consumer can understand what you are selling in 5 seconds or less.
Review what competitors are doing with their titles. Find what the winning formula is for your specific category by looking at top sellers.
DON'Ts
Do not overcomplicate it. Some products don't require all 200 characters to explain it properly, so focus on the general concept of "What do I need people to know".
Do not assume. Too often, brands assume consumers can figure out the product by looking at the main image. So, be clear and concise about what you are selling.
2. Key Product Features Optimization
When you are writing your key product features, remember:
5 bullets – 250 characters maximum per bullet
Total characters allowed: 1,000 characters
Best Practice: Each bullet starts with ALL CAPS that highlights the key point of the information shared in that bullet. Examples:
GREAT TASTE: Our great tasting vanilla toothpaste will get your kids brushing their teeth without a fuss.
EASY TO USE: With the handheld functionality, this item is easy to use and reduces the time it takes to get the job done!
The following product features section is a strong example of sufficiently detailed and appropriately structured formatting. The section is also easy to understand.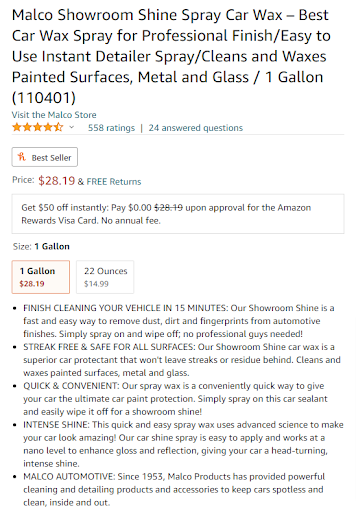 In order to paint the full picture, below is a poor example of a product features section.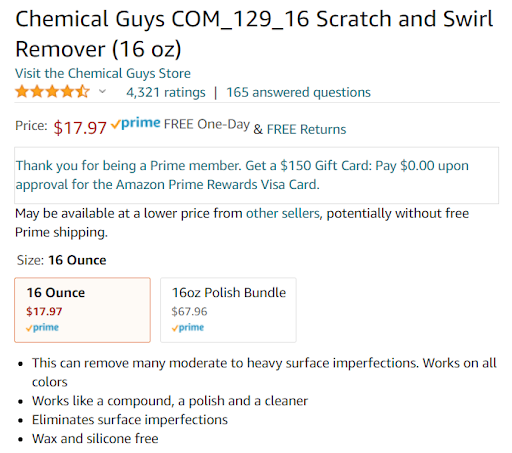 Amazon Key Product Features Do's and Don'ts
DO's
Always think about SEO and the consumer. As stated above, you need keywords

and

rich content to build excellent bullets on Amazon.
Get creative. If you have run out of things to say and you have an extra bullet:

Talk more about the brand
Further define the specs of your product
Talk about shipping
DON'Ts
Do not overdo it. The goal is not to use all 1,000 characters if you do not need to. The goal is to utilize all 5 bullets to give additional information about the product.

Some products may need more content than others. For example, apparel products are more visual, and require less copy, while car detailing products require more copy to explain all the uses and applications. Be smart about what you say.

Do not assume. Again, do not assume people know anything. Act like this is someone coming to your page who has never heard of you or your product before.
3. Amazon Product Images Optimization
When considering images for your product on Amazon, remember:
Images are extremely important on Amazon. In fact, they can make or break the sale.
Every brand will be different. Some products are more visual than others.
Best Practice: You have up to 9 image slots available on Amazon – use them all!
Add different types:
Product
Packaging
Lifestyle
Infographics
Ingredients
A few rules for these pictures:
Products must fill at least 85% of the image.
Main images must have a pure white background and must be a photo, not a drawing.
Additionally, JPEG is the preferred image format.
The following product image is a good example. The image is large and easy to read.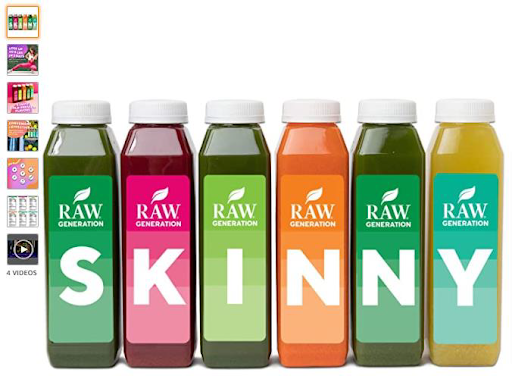 However, the image below is a poor example of an Amazon product image. It is small, does not have a white background, and is difficult to read.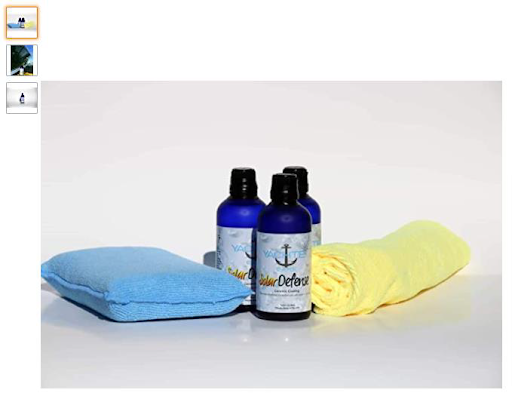 Amazon Product Images Do's and Don'ts
DO's
Ensure the images are easily readable in both the search results and the product detail page.
Combine life shots with content. Some examples of this done really well are below:

Wild Plant Skipjack Tuna
DACHA Nutrition Natural Liposomal Vitamin
Raw Generation 3-Day Skinny Cleanse
Neutrogena Makeup Remover Cleansing Face Wipes
Dr. Sheffield's Certified Natural Toothpaste
DON'Ts
Do not use any low-resolution images.

If you do not have any, borrow someone's iPhone. Low resolution images can result in reduced consumer confidence.

Do not add text onto your Main Image.

Amazon will flag you (eventually) for copy on your main image. For instance, text like "Value Size", "Great Deal", and "This Product Is…", will result in a suppressed listing.
4. Amazon A+ Content Optimization
Amazon A+ Content allows sellers to tell their brand story with enhanced images and copy. Two things to note:
You must be a brand registered seller to utilize A+ content.
A+ Content lives below-the-fold on an Amazon Product Detail Page and replaces the 'Product Description'.
There are 3 primary ways to build A+ content:
Create content about the specific product on the page
Build content about the brand in general
Make content that utilizes both (highly recommended)
Examples of Good A+ Content:
LUCID Hybrid Mattress
CRAFTIVITY Tropical Terrarium Kit
TheraBreath Fresh Breath Oral Rinse
Amazon A+ Content Do's and Don'ts
DO's
There is SEO value in A+ content. SEO value is not exclusive to your titles and bullet points. Keep utilizing keywords you want to rank on in the copy.
Have a purpose. Your A+ content is supposed to be additional, valuable information. So, use the additional spaces Amazon provides you any chance you can.
DON'Ts
Do not repeat what you already said in your bullets. This is a space for additional content and imagery. Be creative.
Do not be lazy. A+ content is viewed quite frequently by shoppers, and they can tell when a page is lazily done. Take the time to do it properly.
5. Amazon Video Optimization
Amazon has introduced Video onto the product detail pages.
Video can be used on Amazon to further explain the product, how it works, unboxing videos, information videos, and more!
Additionally, video needs to be .mp4 or .mov under 5GB (480p or higher recommended)
Here's an example of good video content:
Amazon Video Do's and Don'ts
DO's
Utilize Subtitles and/or Text-Overlays in your video. Most shoppers do not watch video with the sound on, so you need to be able to convey your message without audio.
The more video, the better. There are additional video slots on Amazon that, if you are not utilizing, Amazon will put competitor product videos or related videos in place of your video. Including 6 videos will protect you from competitor product videos populating on this page.
DONT's
Do not include any URLs that direct users off of Amazon. This includes social media links and handles. Amazon will not accept it.
In many cases, the simpler the better. Don't rely on a professional production team if you're a lower volume seller. Video can often be done with an iPhone and computer.
Work With an Amazon Conversion Rate Expert
All in all, your Amazon conversion rate is influenced by many points of optimization on your product pages. These areas include:
Product Title
Key Product Features
Images
A+ Content
Video
In order to improve your Amazon conversion rate, you must focus on the SEO (searchability) and consumer-friendliness of your product pages.
Now, this also requires you to keep a few key questions top of mind as you optimize.
Above all, ask yourself – What am I selling?
Similarly, be sure to tap into the questions – How do I use it? And why should I buy it?
So, if your Amazon product pages are in need of a facelift to improve conversion, drop us a line here.
Whether you have a question, would like to know more about our services, or are interested in a free audit of your Amazon account and marketing efforts, we are here to help.
With more than 20 years of ecommerce marketing experience, you'll be in good hands.