Our Amazon team recently had the chance to attend Amazon Accelerate, an annual two-day seller conference in Seattle. They returned home with a strong understanding of Amazon's upcoming enhancements, including new ways to purchase with Prime, stronger seller support, and so much more. This Amazon accelerate recap gathers the best information we learned. If you're a seller, don't miss these four game-changing updates.
1. Buy With Prime + Amazon Supply Chain
Amazon officially announced their "Buy with Prime" button at Accelerate. This button will appear on other ecommerce platforms across the web, including heavy-hitters like Walmart and Target. This will enable customers to receive the same benefits of their Prime Membership, like fast, free shipping, on non-Amazon sites.
As explained in the breakout session, "Scaling your Ecommerce Presence" with Noah Oken-Berg (CEO of Above The Fray Design) and Beth Anne Porter (Senior Manager, Product Development, Amazon), free shipping is the primary factor driving purchases for 55% of customers.
To promote this new feature, Amazon will partially fund co-branded ads on Facebook and Instagram, helping drive customers to DTC sites involved in "Buy with Prime." Currently, buy with Prime is invite-only, but you can apply here.
Another new feature impacing shipping and fulfillment is Amazon Supply Chain. This means Amazon will work as a fulfillment agent for DTC across all shopping platforms (Walmart, eBay, Etsy, Shopify, etc). Retailers can choose to fulfill with Amazon regardless of the "Buy with Prime" feature.
Amazon will take key steps to conceal this fufillment service for the retailer, including:
Unbranded boxes
Removing "Fulfilled by Amazon" from appearing in UPS tracking
Providing tracking codes within 24 hours (instead of upon sending)
Ending "The Last Mile," (Amazon won't deliver in their vehicles)
Competitive pricing
We predict that these moves will push Amazon even closer to becoming a global logistics leader.
2. Search Query Performance
Search Query ASIN Performance will allow sellers to see how their products perform organically in search queries. With the ASIB functionality, this can now be done both per brand and per ASIN, offering a clearer picture of a brand's engagement and conversion in comparison to their competition.
Kate LaChapelle (Sr. Product Manger, Brand Analytics, Amazon) and Nirmala Ranganathan (Principal Product Manager, Amazon) explained that this new feature will be available under the Brand Analytics tab in Seller Central. We're thrilled to include this in our Amazon Accelerate recap because this is the first time sellers have been able to see their organic search performance. It offers a wealth of opportunity for leveraging data strategically. We're excited to see what insights these tools offer for high-traffic events like Black Friday and Amazon Prime Day.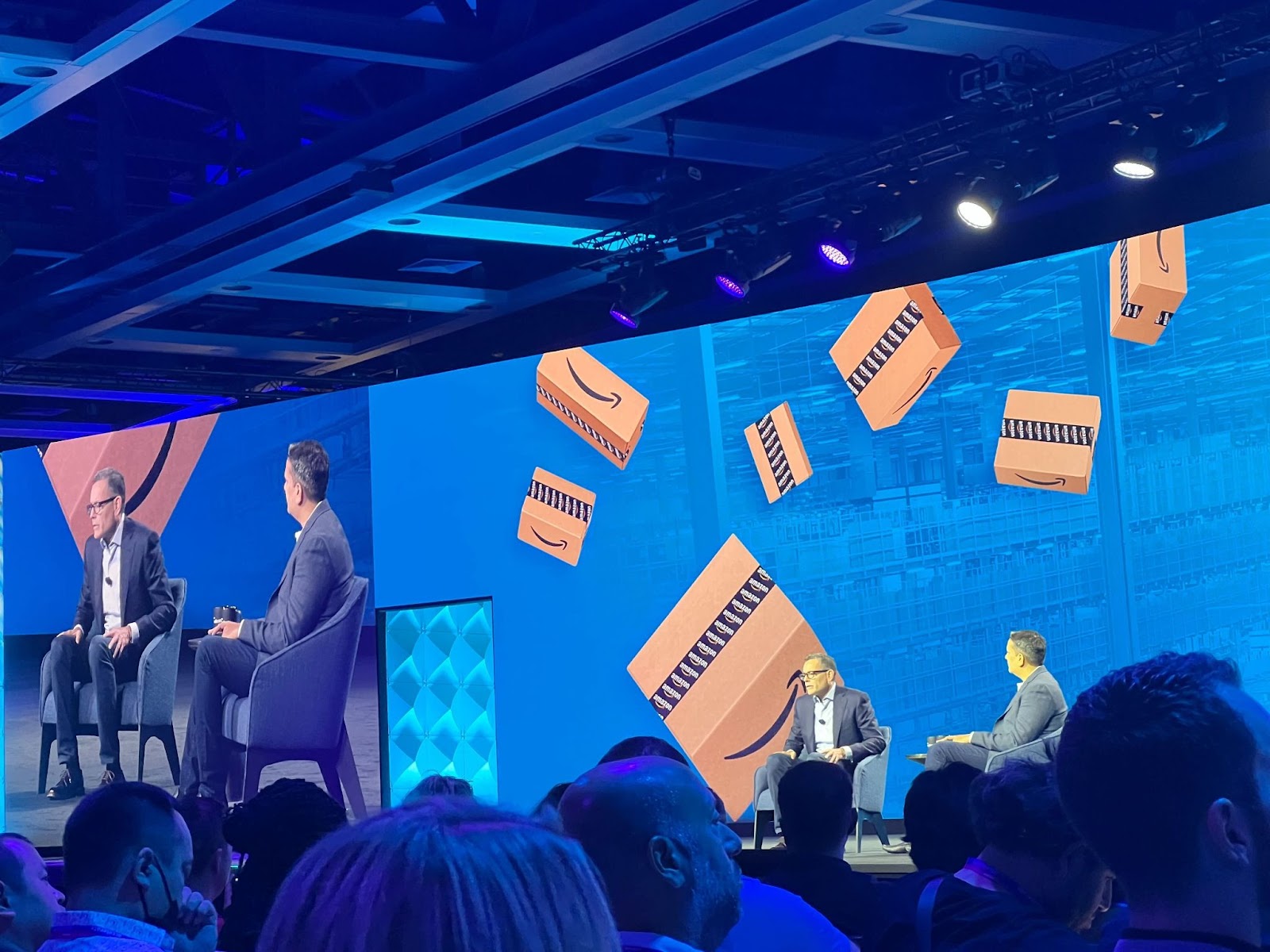 3. Account Health and Support Updates
Amazon shared a few changes that foster greater transparency around seller account health.
For one, they're rolling out an "escalate your case" button, which will make it easier for sellers to get in touch with Amazon representatives regarding timely and pressing account issues.
We're also excited about Amazon Brand Protection initiatives. As explained by Anna Dalla Val (Director, Global Brand Protection, Amazon), sellers will be able to attach unique QR codes to their products. Any products without this code will be denied by Amazon's warehouse, which makes it impossible for third-party sellers to capitalize on your listing.
Additionally, "Account Health Assurance" helps sellers correct issues with their account health score, plus more tools for sellers to be proactive in trying to solve complex problems within their accounts.
RELATED: How one brand grew their FBA inventory 1360% to boost sales
4. Amazon Launchpad
Amazon Launchpad is one of the most exciting updates announced at Amazon Accelerate. This is a new small business incubator with additional resources and money saving options available to businesses under 4 years old. This supplemental program is designed to jumpstart Amazon sellers and bring brand awareness to new startups.
Amazon Accelerate Launchpad businesses can benefit from:
Waived fees for lightning deals or one 7-day deal per week
Increased exposure to storefront placements
Access to Amazon imaging services for premium A+ content
Additional tools and support through the brand portal
Global expansion tools with unique resources across different regions
In a similar nod to small business, Amazon announced their Special Focus 2022: the Black Business Accelerator program. This initiative includes benefits like business education and coaching, marketing and advertising support, and more services to empower Black-owned businesses.
Amazon Accelerate Recap: 4 Tips to Sell Better
Amazon Accelerate offered the chance to mingle with thousands of Amazon Sellers while learning from the best in the industry. We had the chance to make meaningful connections, enjoy the city of Seattle, and even meet up with a few of our clients for dinner at The Capital Grille.
In the words of our Account Manager Rebecca Quirk, "I never stopped learning."
We hope you found our Amazon Accelerate recap helpful. We can't wait to see how these changes continue to transform the world of ecommerce—and how we can help our clients exceed their selling goals.
Interested in selling on Amazon? Need an expert partner who can optimize your listings with the latest updates? Get in touch.