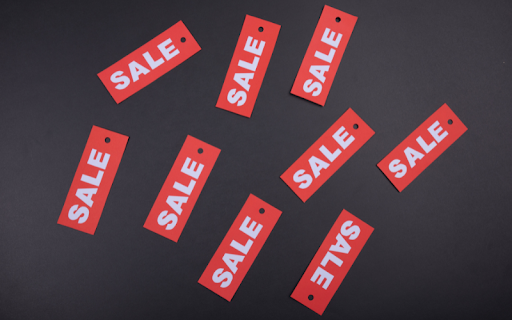 Whether you're ready or not, Cyber Week is coming. Cyber Week brings significant opportunities to make a killing with a sale and acquire tons of new customers.
The numbers don't lie: Cyber Week is a massive opportunity for e-commerce businesses. In 2022, the USA alone saw $35.3 billion in e-commerce sales during the Cyber Weekend, with Black Friday accounting for $9.1 billion and Cyber Monday generating $11.3 billion in sales.
However, to make the most of Black Friday and Cyber Monday, it's crucial to prepare well in advance. A key part of preparing for Cyber Week is growing your audience.
Growing Your Audience
What good is Black Friday or Cyber Monday if no one new hears about your sale?
Sure, you'll get some sales from your loyal customers, but Cyber Week is about drawing in new customers with a killer sale.
58% of consumers will switch brands if a cheaper alternative is available, so if you really get the word out there, you can attract loads of new customers.
But how do you get new sets of eyes on your products?
The key to growing your audience is optimizing your marketing channels, leveraging social proof, and capturing valuable leads through Facebook.
Quick Growth vs. Quality Growth
Before diving into the strategies for growth, it's important to recognize the difference between quick growth and quality growth.
Quick growth often involves tactics like buying email lists or scraping emails, which may result in a larger list but lack the targeting and relationship-building essential for getting new customers into your business's sales funnel.
On the other hand, quality growth focuses on targeting leads likely to buy, providing value, nurturing the lead, making them feel welcome, and building relationships long before Cyber Week arrives.
Optimize Your Marketing Channels
Optimize your marketing channels to build highly personalized, lifelong customer relationships using your existing data. Take full advantage of sign-up forms, collect SMS consent, learn more about your audience, and make the sign-up process fun and easy to encourage more opt-ins. Additionally, leverage your Instagram followers by bringing them into your own marketing channels through SMS and email sign up forms.
Drive Growth through Social Proof
Utilize "Social Proof".
What is social proof? Social Proof is "evidence that other people have purchased and found value in a product or service offered by a business". This can come in the form of product reviews, referrals, and User Generated Content (UGC).
How do you create social proof for your business? There are a few ways.
First, you can encourage customers to leave reviews and showcase the best testimonials across your marketing channels.
Next, you can implement a referral program to incentivize your existing customers to refer friends and family. People trust recommendations from their peers more than businesses – so the more that you can leverage social proof, the better off you are going to be when Cyber Week rolls around.
Finally, you'll want to harness the power of UGC.
User-Generated Content (UGC)
What is UGC? User Generated Content (UGC) is any type of content created by your consumers and not your marketing team.
Remember, people trust people more than businesses. That's why UGC leads to a 162% increase in revenue per shopper and a 144% boost in conversion rates.
It's both cost-effective and more impactful than influencer marketing.
Highlighting content made by everyday people about your product or service will help you create buzz in an authentic and meaningful way.
That's why its essential to develop a UGC strategy, create a UGC-specific hashtag, compare UGC performance with branded posts, and always tag the content creator. Incentivize UGC creation to keep your audience engaged.
Capture Subscribers with Facebook:
Another way to grow your audience is by capturing subscribers through Facebook. There are millions of potential customers surfing through Facebook every day, and if you can pique their interest in your product or service, you've got a potential future customer.
Utilize Facebook lead ads and an effective lead magnet to capture valuable leads. A lead magnet usually offers a discount or free product in exchange for an email address or phone number.
To reach consumers in your target audience, you can leverage custom audiences for retargeting and lookalike audiences for acquisition, ensuring you reach potential customers effectively on social media.
Once these potential customers have entered your sales funnel, nurture these leads through your own marketing channels, such as email and SMS.
Work With An Expert Team
Preparing for Cyber Week requires a comprehensive strategy that goes beyond just offering a killer sale.
It requires growing your audience by optimizing your marketing channels, leveraging social proof and user generated content (UGC) and capturing leads through platforms like Facebook.
And you don't have to do it alone. Our experienced team at eAccountable has helped hundreds of clients crush Cyber Week by helping them get ahead of the competition by getting prepared early and growing their audience.
So don't leave money on the table. Drop us a line here for a free consultation on how we can help you maximize your success this Black Friday and Cyber Monday.