The Newest Amazon Ad Type Geared Towards Attracting Customers
You wouldn't believe it, but video ads are outperforming static images for sponsored brands in key metrics. Why?
Viewers retain 95% of a message when watching a video.
When compared to the mere 10% that readers retain from a written text, the power of video is all the more clear. Across all digital channels, video is becoming the most popular content to create because of the engagement and retention it brings. Therefore, it is imperative that brands utilize video to help promote their products and build their brand story.
Amazon Advertising 101
Advertising on Amazon is an important and effective way to spread the word about your products and bring customers to your pages. Right now, there are several methods of Amazon advertising that we facilitate at eAccountable:
Sponsored Product Ads
Sponsored Brand Ads
Product Display Ads
Amazon Video Ads
Amazon Video Ads
Amazon Video Ads are available to any Brand Registered seller. They provide brands a dynamic way to advertise products in an eye-catching manner. Additionally, delivering your brand's messaging and convincing customers to purchase your product through a video shown in search results allows you to take up more real estate on the search results page, which can lead to a boost in sales.
Above all, Amazon ads simply work! Here are some highlights from Tinuti's 2020 Q4 Amazon Advertising report:
Sponsored Brands Video accounted for 26% of all conversions attributed to Sponsored Brands in Q4, and the format has quickly become an important part of ad strategy for vendors and sellers.
Video ads are outperforming static images for Sponsored Brands in key metrics like click-through rate and conversion rate for many advertisers.
Video ads give marketers more to work with in creating an ad that demonstrates the look, feel, and usefulness of products.
So, let's dive into how Amazon Video Ads work, share best video-ad practices, and provide a step-by-step guide on how to create your own video ads.
Amazon Video Ads: How Do They Work?
On Amazon, video advertisements are more than just another advertisement type. They allow brands to show their product in action. They allow brands to highlight the benefits of their products visually and to showcase how to best use their products.
To use Amazon Video Ads, we first need to understand what they are. Sponsored Brand Video ads instantly grab a shopper's attention while they browse search results, making this new ad format a great tactic to increase clickthrough rate and conversions.
These videos are embedded around related product listings when a customer begins their search. Shoppers with high purchase intent can easily watch these videos to learn about the product and brand before clicking into the listing, increasing the chances of a potential customer committing to your product over a competitor's.
What exactly are your customers looking at when they encounter your ad?
Let us go through the four key elements together.
Product details: A brand's product image, title, star rating, review count, price, and prime eligibility are displayed.
Sponsored tag: This tag shows over the product title or top right-hand corner of the video.
Video: Once 50% of the media is on screen, it will automatically play.
Mute toggle button: Videos always start without audio, but customers can unclick the mute button to enable it.

Amazon broadened the scope of the Sponsored Brand Video ads landscape. Now, both mobile and desktop users can see your products in action in the Sponsored Brand Video format while browsing search results.
Amazon Video Ads: Concepts
There are several concepts for videos you can share on Amazon, here are a few ideas to get the ball rolling:
How-To Video: Showing how to use the product just like a customer would use it.
Unboxing Video: Unpackage your product to show everything a customer gets. Great for brands who emphasize their packaging experience.
Product Benefits Video: Using text-overlays and subtitles, highlight the benefits and use cases of the product.
Branding Video: Focus on your brand story, and how it got you to create this product.
Amazon Video Ads: Step by Step
Now that you understand what Sponsored Brand Video ads are, we'll walk you through how to set up your campaigns with the beta in Amazon. Before you upload your video, make sure it meets Amazon's requirements:
Video Specs
16:9 aspect ratio
1280 x 720px, 1920 x 1080px or 3840 x 2160px
23.976, 24, 25, 29.97, 29.98, or 30 fps
1 Mbps or higher bit rate
H.264 or H.265 codec
6-45 sec long
500 MB or smaller
MP4 or MOV file
Once you have your video prepared, here's how to get started:
Step 1: Create a new Sponsored Brands "Video (Beta)" campaign.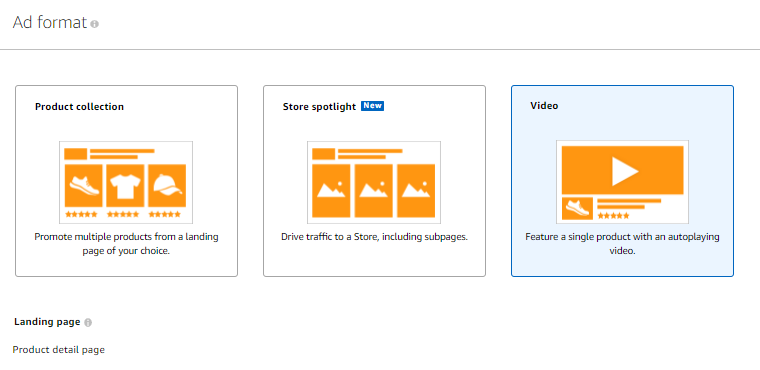 Step 2: Choose the product you're creating the video for from the "New Product List Page."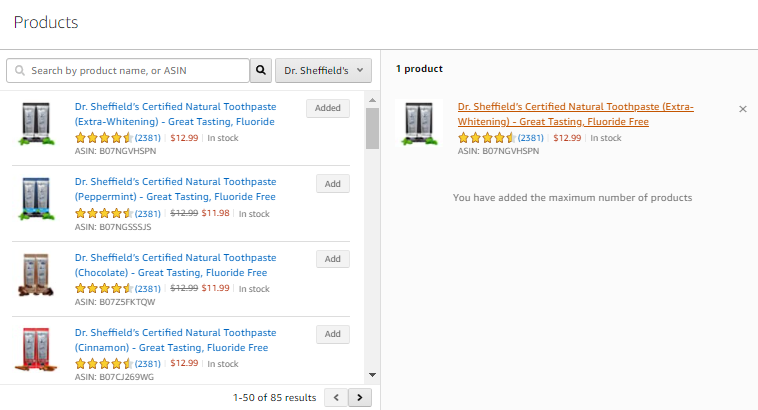 Step 3: Upload your video file and preview the ad in the right-side panel.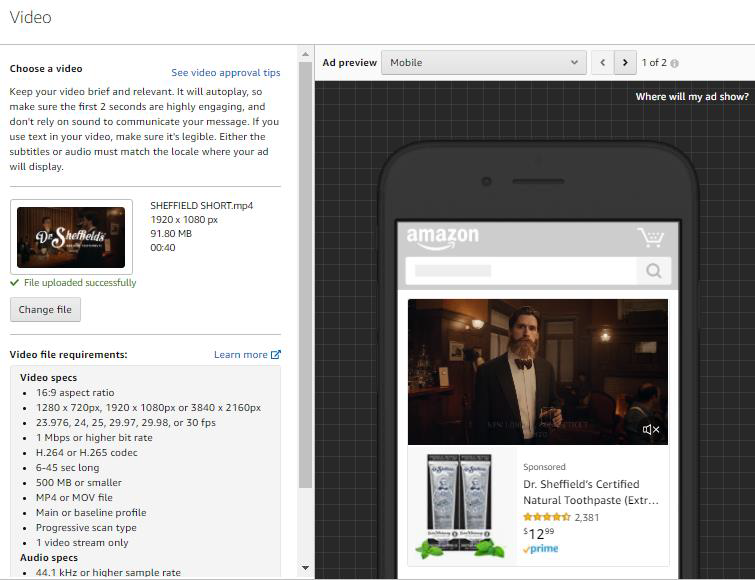 Step 4: Select keywords you want to target and set bids.
Step 5: Submit the campaign for review. Approval can take anywhere from 10 minutes to a couple of hours, so check back in on your campaign to track its status.
Amazon Video Ads: Proven Results
eAccountable A/B tested how the video ad above performed versus non-video Sponsored Brand Ads campaigns. The same keywords were being targeted at nearly identical cost-per-clicks.
The date range for this test was November and December of 2020: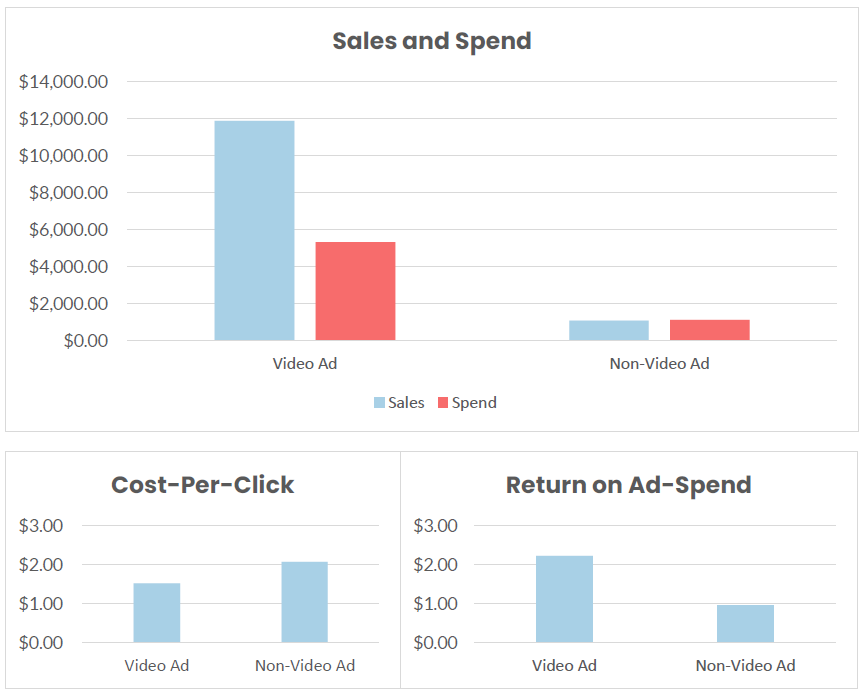 As you can see from the charts above, the video advertisements outperformed the non-video ads across all key metrics.
✓ The Video Ad was able to generate significantly more traffic and convert at a much higher percentage
✓ This resulted in a lower cost-per-click for the video ad versus the non-video ad
✓ Return on Ad Spend was 131% higher when using the video ad in this example
Across multiple clients, eAccountable has proven that quality video-ads outperform non-video ads for Sponsored Brand Ads.
Amazon Video Ads: Tips and Tricks
While video can be intimidating to create, it is often simpler than you would think. Nowadays, you can even use your smartphone to create high quality video. Below are some best practices to consider when creating your first Amazon video:
Know your audience: Amazon customers are shopping for brands and products that can solve their needs, so your content should be educational and product focused.
Show your product: Research by Amazon shows that videos that feature the product in the first few seconds typically perform much better than those that don't. Eliminate wasteful effects like fading in from black or empty starting frames.
Brief and focused: 15-30 seconds is the optimal video length. Limit your content to an important selling point to limit confusion and communicate a clear message. Focus on one product, not your entire catalog.
Optimize video for ad format: Video for Sponsored Brands auto-plays without sound and runs inline in the search results with no option for full-screen viewing.
Optimize your video accordingly: make it viewable without sound and ensure all on-screen text is readable even when minimized. Consider the location of the user interface within the viewing area so that important elements are not obstructed.
Loop the video: Remember that the video will loop once it ends. You can either add an end card to give the viewer time to breathe or make it a seamless transition back to the beginning of the video.
Amazon Video Ads Summary
Whether you are new to selling on Amazon or are an experienced seller, you need to be utilizing video. Far too many brands have not adopted video on Amazon yet, which is why it is critical to get a head start on your competition. Research shows that video, not just on Amazon, outperforms other forms of content. Ensure you take the time to create quality video, and you will reap the benefits.
At eAccountable, we have experienced account managers who have grown client's Amazon revenue with proven and profitable strategies. Want to talk to an expert? Reach out to us today and we'll provide you a free consultation for your unique situation.