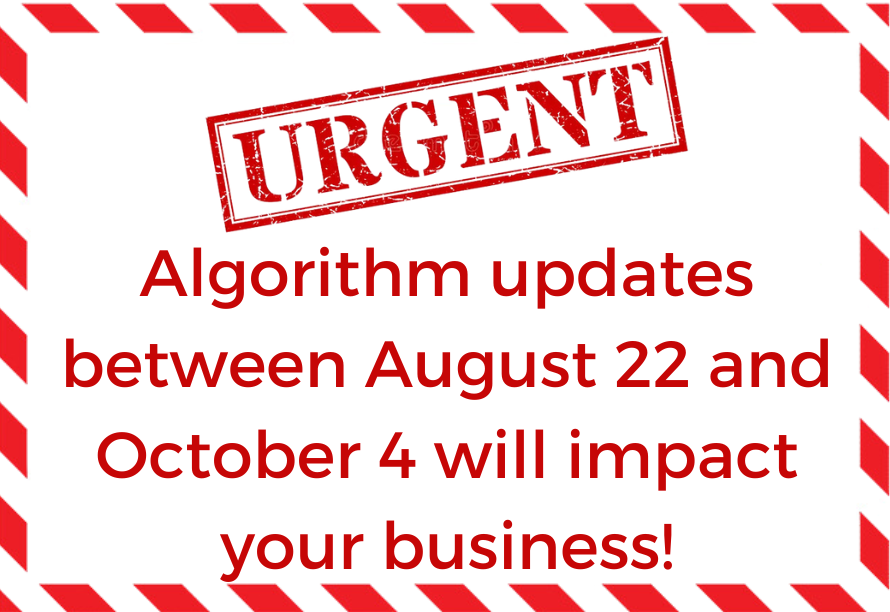 Many websites that rely on SEO for their business are hurting right now. Over the last several weeks, Google has deployed a series of very volatile and impactful algorithm updates that have rendered many SEO initiatives either useless or toothless.
We've previously published on how to interpret named Google Algorithm Updates. This series of updates in particular has exhibited sequential and focused brutality on sites and SERPs that we honestly haven't seen in a while. It's essential to understand how these updates may be affecting your online visibility.
We've compiled these insights below to help you stay informed and determine if you've potentially been impacted.
Overview of Recent Algorithm Updates
If you've been experiencing organic traffic drops starting on any (or all) of the following dates then you're most likely one of the many who are being negatively impacted by this series of updates:
August 22nd
September 14th
October 4th
These updates include the following:
1. August 2023 Broad Core Quality Algorithm Update
Rolled out on August 22nd, this algorithm update targets all types of content, and the rollout was completed as of September 7th, 2023.
2. September 2023 Helpful Content Update
Rolled out on September 14th, this algorithm update has a keen eye on content that doesn't align with Google's quality standards. If the content on your site doesn't meet Google's criteria for being "helpful" and "people-first," you may have been affected by this update. This rollout was completed on September 28th, 2023.
3. October 2023 Spam Update
Rolled out on October 4th, this algorithm update targets cloaking, hacked, auto-generated, and scraped spam, more so in Turkish, Vietnamese, Indonesian, Hindi, Chinese, and other languages. It goes after cloaking, hacked, auto-generated, and scraped spam, more so in Turkish, Vietnamese, Indonesian, Hindi, Chinese, and other languages. This update is still running.
4. October 2023 Broad Core Quality Algorithm Update
Rolled out on October 5th, this algorithm update targets all types of content. This update is still running.
The Impact of These Updates
Many site owners and SEOs are reporting that their URLs have been removed from SERPs entirely, or that they're experiencing significant enough traffic loss to greatly impact their revenue.
While all of this continues to evolve, there is evidence to suggest that the following sites are being impacted:
Niche Websites
Niche websites primarily in the lifestyle, food/health, home, and product review/experience niches with low domain authority are seeing traffic drops ranging anywhere from 50% – 70%. Many sites are even being removed entirely from Google's index, meaning they don't appear on Google Search Result Pages.
Sites With AI-Generated Content
Sites with lower authority in their industry that leverage copy and pasted AI generated content are experiencing increased scrutiny from Google, resulting in huge traffic drops.
While there are many nuances around the use of AI generated content and SEO, the most important thing to keep in mind is that Google accepts that people will use AI, but Google will always find a way to penalize sites that copy and paste AI content directly to their site.
Simple enough – if you're going to use AI, don't just copy and paste from ChatGPT. Take the time to put it in your own words first.
Ad-Heavy Sites
Is your site "ad-heavy"? You should take a look.
Sites that heavily leverage ads that hurt the user's reading experience after landing on a page are being targeted by these algorithm updates. If your website has so many spammy pop ups and banner ads that it hurts the user's ability to read what's on the page, there's a chance you might not be on page 1 of Google anymore.
Poor Core Web Vitals (CWV)
Have you checked your core web vitals recently? Well, you should.
Sites with potentially poor CWV (Core Web Vitals) and crawl/click depths larger than 2 are being targeted. It seems to be on a smaller scale compared to the other offenses (having too many ads, using copy and pasted AI content, low domain authority, etc.), but you should still pay attention.
The good news is that you can easily check your core web vitals using this link. And with some technical SEO changes, you can make a sizable impact on your Core Web Vitals with a strategic effort.
What's Next?
This is shaping up to be one of the most impactful series of algorithm updates to happen in a long time. And we wouldn't say that they're done yet. Two have finished deploying (August 2023 Broad Core and September HCU) and two are still rolling out (October 2023 Spam and October Broad Core).
As such, there is still a possibility for more large shifts to occur, but our team at eAccountable believes that the websites that were the original targets have already been impacted.
Still, this is SEO—anything can happen, so its essential to stay on your feet.
Work With An Expert Team
If you believe that you've been impacted by this recent string of algorithm updates, please let us know—we're you're partner. Drop us a line here and we'd be happy to set up a free consultation to review data and come up with a targeted SEO strategy so your business can come out on top during this tumultuous time.