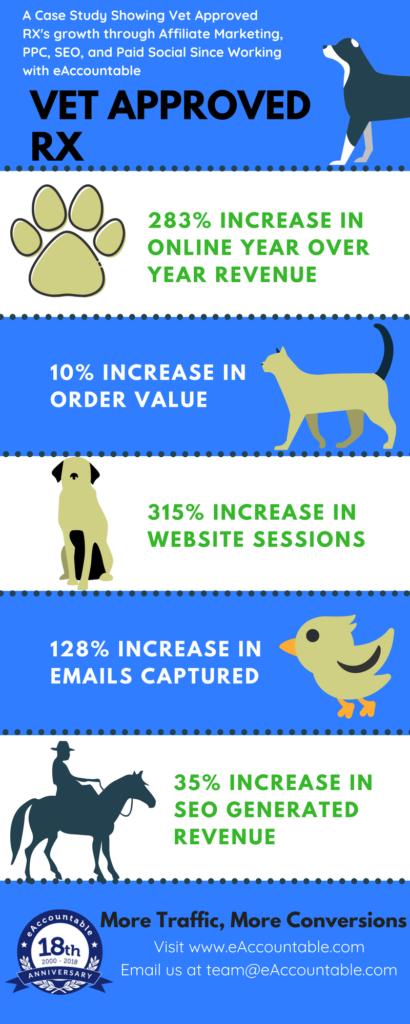 Challenge
Vet Approved RX provides only high quality pet medications, foods and other supplies at affordable prices. They also provide pet care guidance from an experienced and licensed veterinarian to answer your questions.
Their business model was enviable – the voice and founder of their company was well respected and loved, customers lined up to buy from them and they had a strong conversion rate.
Then – Google changed the rules about selling pharmaceutical products online – and this had a very serious impact on Vet Approved RX. Without the required .pharmacy URL, sales were declining and they needed a new strategic approach to regain online sales. In addition to this, technical issues were further impacting their ability to drive sales. They needed both digital marketing consultative strategy services and a company with the tactical chops to execute on the vision. They came to eAccountable for help.
What We Did
Getting traffic and boosting sales to the Vet Approved RX site required a multi-channel strategic digital marketing approach which included:
Price Point Evaluation:

Analysis and revision of price points to ensure Vet Approved RX was both competitive and optimizing profits.

Thorough Evaluation of How to Best Leverage Amazon:

Similar to many companies, Vet Approved RX struggled with how to make Amazon a partner instead of a competitor.

Evaluated Minimum Advertised Price Policy (MAPP):

Analyzed pricing policy to ensure the required margins were do-able while maintaining strong and supportive relationships with all vendors.

Paid Search

:

Launched a Google shopping campaign and paid search ads with a focus on being

price competitive and generating high margin products in PLAs. Also, we managed the process to ensure we received the proper documentation to sell pharmacy products online

Technical SEO:

Completed a technical audit, identification and prioritization of issues inhibiting SEO and optimal customer experience.

Better Review Technology and Management:

Switched to Yotpo Reviews, created a program to better highlight reviews on the site and on respective product pages, created a campaign to highlight reviews on Facebook to drive traffic to the site.

Incentivized reviewers to create repeat purchasers.

Email Capture:

Implemented a new email capture tool (Upsellit) and devised a new email marketing campaign which included incentives for providing contact information, follow up emails, abandon cart emails and educational emails from in house veterinarians.

Program had a strong emphasis on acquiring new email addresses from cold audiences.

Add SMS Shipping Notifications:

Implemented system to send SMS shipping notifications as well as notifications for refills and recurring orders.

Created Private Affiliate Network

:

Exclusive affiliate network was created to incentivize vets to buy directly from Vet Approved RX.

Paid Social

:

 Revamped paid social efforts with product retargeting and prospecting to lookalike audiences.

Fixing Product Feeds:

At the onset of the engagement, Vet Approved RX had numerous issues with their product feeds. eAccountable investigated the issues, identified the issue and solution and implemented the required fix.
Results
25% improvement in site performance

130% improvement in mobile site score

128% increase in emails captured

283% increase in online revenue

315% increase in website sessions

767% increase in Paid Search revenue

35% increase in SEO generated revenue

123% increase in email traffic

158% increase in email revenue

Rebuilt previously lost traffic

Average Order Value (AOV) increased by 10%

Exceeded annual goals

PPC goals exceeded target

SEO goals exceeded target

Vet Approved RX opened a second office with new services and continues to be significant voice and influence in the industry
Testimonial from Vet Approved RX
"We have been using eAccountable for about 2 years.  Since May 2016 they have managed our affiliate networks and had a lot to do to clean up the mess we had from a previous companies affiliate "management".  Even with all the clean-up they had to do, we still had good growth, but for the last year they have had excellent results for our affiliate program. As of February 2018 our affiliate program revenue is Up 224% YoY, with a 8.5% CR, all while keeping our AOV high.  In my opinion, one of the best aspects of working with everyone at eAccountable has been that they are more of a partner invested with us in our growth. They have remained very professional, but personable and available. Ryan has been our contact/go to guy and tries to always be available when we need to have an impromptu call.
We started our SEO with them a little over a year ago and in February our organic revenue is up 161%.  Our Total Search Revenue is up 189%! And Total Site Revenue up 137%. We had done very little SEO previously, but we were really excited about the potential.  Billy Robbins has been heading our SEO efforts and we are really pleased with all he has helped us with.
Tanner is now handling our account and we have bi-weekly meetings (conf-call)  to stay on top of our results and questions, and they have a reports dashboard that I find very useful and review most every day.  It has certainly been a beneficial relationship so far and we now have them working with our emails, PPC and SEO programs as well." – Neal Miller, Chief Operating Officer