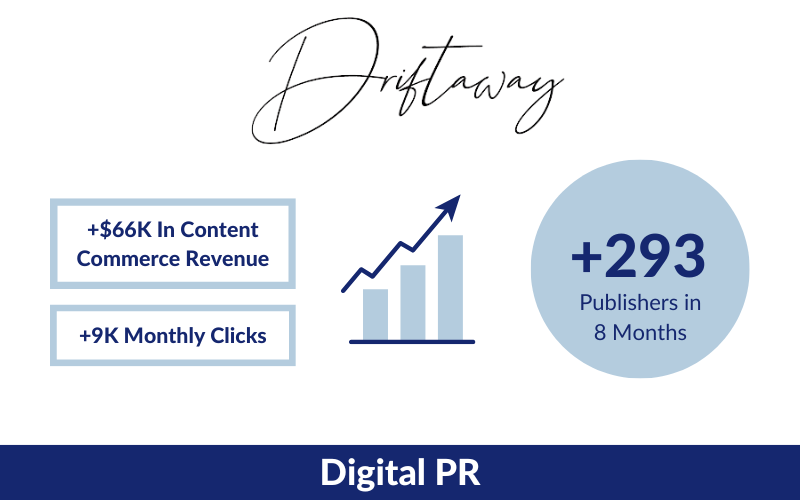 Many food and drink brands saw explosive 2020 growth after COVID-19. Driftaway Coffee, which provides customizable coffee subscriptions, plus coffee and equipment for office and home brewing, was one of them—until the market began normalizing in late 2021.
The Challenge
Driftaway does a lot right: Their attractive branding and commitment to sustainability, including 100% compostable, waste-free packaging and 100% offsetting of their shipping and operations emissions, make them a stand-out company. They even offer virtual coffee tastings led by Driftaway Coffee Educator and 2013 World Brewer's Champion James McCarthy.
But the down-trend in their revenue, starting in mid-2021, was a growing pain point. Cofounders Suyog Mody and Anu Menon reached out to us in June 2021, and initially decided against bringing on an affiliate management company.
After observing category-wide revenue decreases of 25-30% in Q4 of 2021, however, Suyog approached us again. He hoped to find new avenues for growth in Driftaway's affiliate business.
Our Solution
We began management of the Driftaway affiliate program in January 2022.
Here's how we focused our efforts:
Recruit hundreds of new affiliates
Send regular emails to their publisher audience
Drive Driftaway brand reach and awareness
Keeping key media and influencer publishers engaged is key to our efforts. We increased the frequency of contact with Driftaway's publisher audience, sending out 25 emails in 2022 versus 4 in all of 2021.
This means more consistent eyes on Driftaway's story and promotions compared to the brand's previous efforts—and it's already paying off.
---
---
Stabilizing and Growing an Affiliate Program
A brand whose goal is to make their work "sustainable for people and the planet" deserves sustainable growth, too.
Suyog and Anu's choice to focus on affiliate marketing has served the brand well. Since taking over the management of the affiliate program, we've recruited 293 new publishers.
This has helped stabilize Driftaway's year-on-year (YOY) revenue decrease, bringing an initial YOY drop of -59.78% in January 2022 down from -25.16% (June 2022) to -19.27% (July 2022) and -6.43% (August 2022).
"We started with eAccountable when our affiliate program needed a turnaround, and with Kent, Elena and the eAccountable team's help, we've been able to professionalize, stabilize and now grow our channel," Suyog shared.
Between February and October of 2022, content commerce has driven +$66k in revenue. During this time, clicks stayed high and often increased, with between 9,500 and 15,000 clicks on Driftaway products monthly.
A Bright Future for an Inspiring Brand
Driftaway is an Asian American and Pacific Islander (AAPI)-owned and operated business. Husband-and-wife team Suyog and Anu founded Driftaway to directly support small coffee farmers all over the world. Their offering brings high-quality beans to consumers while ensuring farmers are paid fair wages (almost double the Fair Trade price).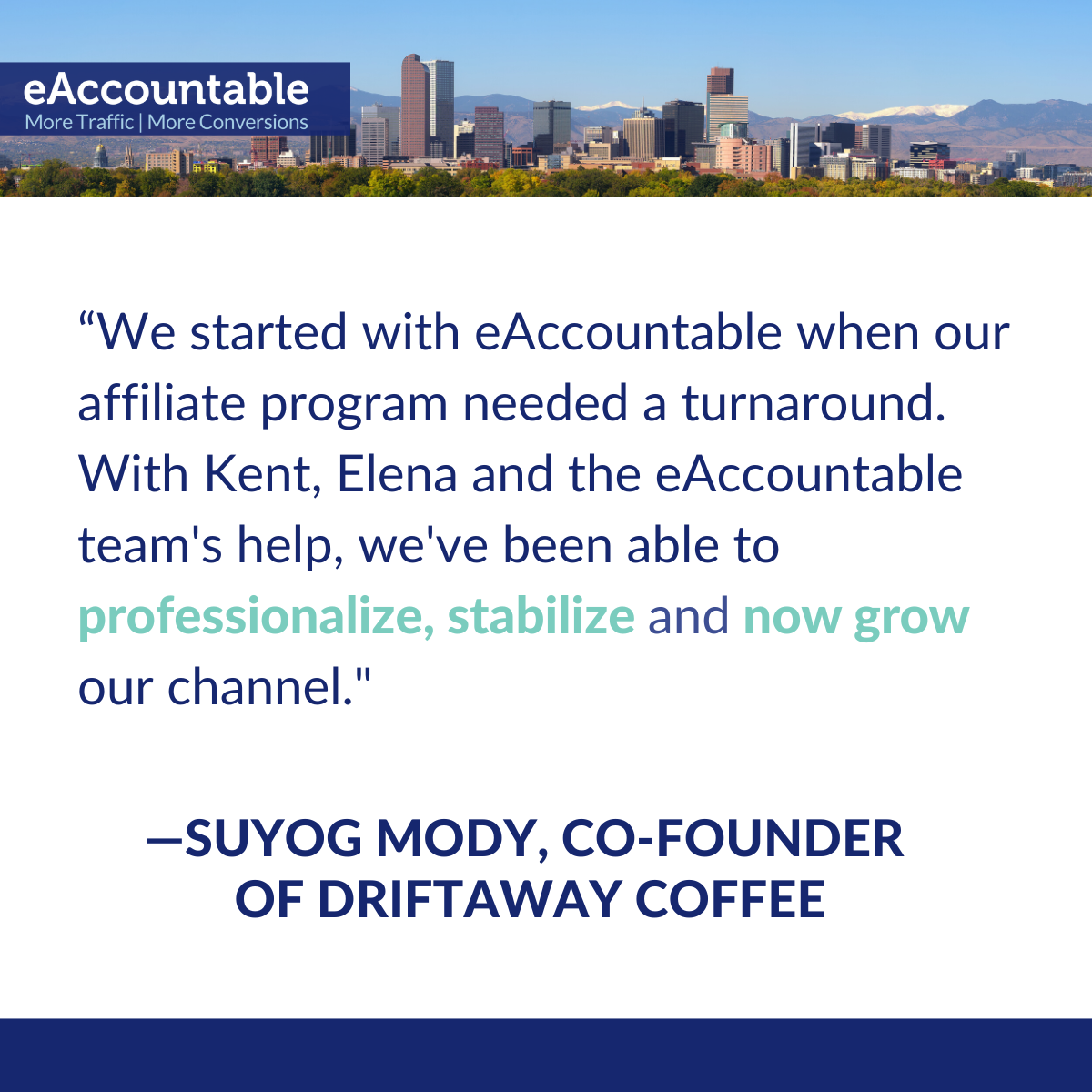 Going forward, we'll continue building relationships with key influencers to increase Driftaway's brand reach, engagement, and revenue growth that will enable Driftaway to keep fulfilling their inspiring mission that brings great coffee to consumers all over the world.
"Affiliate marketing has really matured over the years and has become a long game, and we believe we've set a foundation for future years of growth. I'm very excited about our continued partnership with eAccountable," says Suyog.
Does Your Affiliate Program Need a Boost?
Our affiliate marketing experts have secured placements in the world's top publications, affiliate networks, influencer blogs, and more. Contact us today for a free chat about your affiliate goals—and how the team at eAccountable can make them a reality.