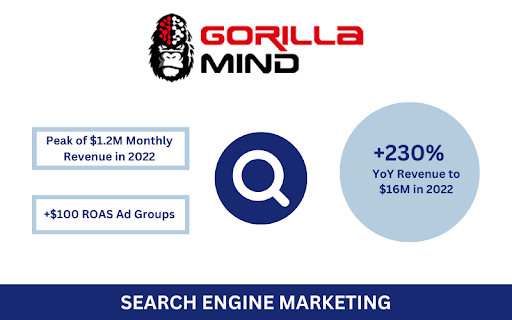 Whether you go to the gym occasionally or you're a complete gym nut, you might have heard something about pre-workout supplements.
Gorilla Mind specializes in dietary supplements that are focused on energizing your workouts and enhancing your cognitive function and performance.
Thanks to a strategic investment in their paid search channel, Gorilla Mind was able to optimize their search engine marketing, generating significant revenue growth during challenging periods as well as effective management of brand search ad groups.
The Challenge
Our trust-based relationship with Gorilla Mind began with support on their Amazon channel. Recognizing eAccountable's team expertise, we expanded our service offering to include paid search marketing as well as paid social support in order to maximize Gorilla Mind's results using an omnichannel approach. Management of the channel took place during the COVID-19 pandemic, but this challenge didn't faze our team. Utilizing a variety of strategies, which included building a uniquely tiered Shopping campaign structure and running numerous brand search ad groups, we were able to create impressive results and growth for Gorilla Mind's team.
Our Solution
Our strategy for growing Gorilla Mind's paid search channel included building a uniquely tiered Shopping campaign structure that utilized smart bidding to separate branded traffic as well as running numerous brand search ad groups.
Tiered Shopping Campaign
Gorilla Mind has a diverse inventory with different margins on each product. On top of this, Gorilla Mind has a broad audience on search, which includes bottom-of-funnel brand loyalists as well as top-of-funnel consumers. Recognizing Gorilla Mind's unique needs, eAccountable implemented a tiered Shopping campaign structure, utilizing smart bidding at a product margin level and segregating branded traffic into dedicated campaigns. This optimized approach was not only able to ensure efficient ad spend tailored to each product, but it was also able to separate branded versus non branded traffic to maximize ROI.
Brand Search Ad Groups
Gorilla Mind is a well-known brand, which made managing brand search ad groups a priority in driving Gorilla Mind's success.
What are brand search ad groups? Brand search ad groups are a type of paid search ad grouping that targets and promotes a company's own brand or branded terms in search engine results pages (SERPs). In the case of Gorilla Mind, a branded term would be "pre-workout".
By leveraging comprehensive keyword research, ad copy optimization, and bid management strategies, we successfully maintained brand search ad groups with an impressive average return on ad spend (ROAS) above $100. On top of that, we maintained above an 80% search impression share, ensuring maximum visibility and brand presence across SERPs. If you're searching for "pre-workout", there's a high chance you'll see "Gorilla Mind" front and center. See below: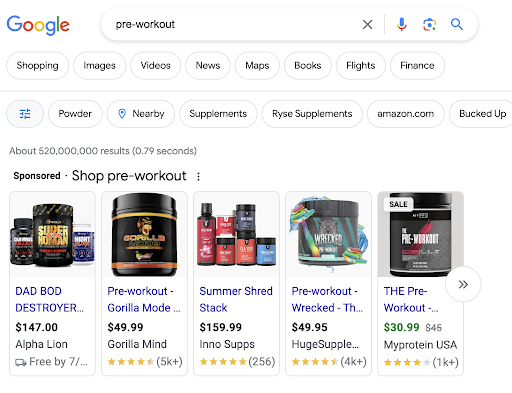 Significant Revenue Growth
By building tailored shopping campaigns tailored to Gorilla Mind's unique audience and running effective brand search ad groups, paid search revenue soared to an impressive $16M, representing a remarkable 230% year-over-year (YoY) increase compared to 2021.
Even amidst challenging periods like COVID-19, Gorilla Mind experienced exceptional revenue performance in their search engine marketing channel. During the height of the COVID-19 pandemic, the partnership reached a peak of $1.2M in monthly revenue in April 2022. As the post-COVID recovery progressed in 2023, Gorilla Mind continued to thrive, achieving a peak revenue of $1.16M in January 2023.
While the strategies we implemented were clearly a strong factor in the growth of Gorilla Mind's business, our team at eAccountable couldn't have optimized this SEM channel without the time and effort put forth by the Gorilla Mind team. Their dedication to maintaining a collaborative partnership allowed us to maximize the potential of their SEM channel. We look forward to continuing to help grow their business as we continue to work together.
About eAccountable
eAccountable is a digital marketing agency headquartered in Denver, Colorado. For more than two decades, online retailers have partnered with us to increase revenue, acquire new customers, and build brand loyalty. Through an integrated omnichannel digital marketing approach, we have helped clients across many industries recognize quick and extremely profitable results.
If you're interested in learning more about how eAccountable can help build a paid search strategy tailored to your company's needs, drop us a line.