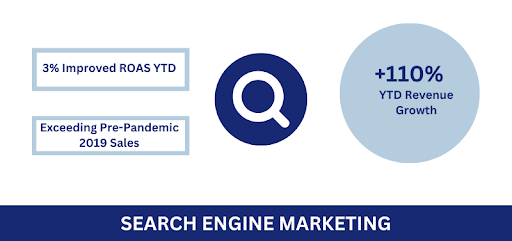 Have you ever dissected a frog? Ever wonder where it came from?
There's a good chance that frog came from this client, a leading science product supplier for K-12 schools and colleges based out of Burlington, North Carolina. 
With an extensive catalog and inventory. The client recognized the need for an expert Search Engine Marketing (SEM) strategy and set out to partner with eAccountable to navigate the complexities of their paid search channel.
The Challenge
There is a great need for science materials, which is why this science product supplier offers an extensive catalog of educational products as one of the largest suppliers in the USA. 
To fit the needs of schools across the United States, they have a diverse catalog with hundreds of categories of products, including: 
Laboratory Equipment
Microscopes
Prepared Microscope Slides
Glassware
Chemicals
Dissection Specimens
Educational Kits
And that just scratches the surface.
The sheer quantity and diversity of their inventory, which had over 9,000 SKUs, presented a significant challenge in terms of managing and optimizing SEM campaigns.
Plus, two years of school closures during the COVID-19 pandemic presented another challenge that the client had to navigate to meet evolving customer needs. Luckily, eAccountable was up to the task. 
Our Solution
To face the unique challenges the client was facing, eAccountable developed a comprehensive SEM strategy that included transitioning campaign types from legacy Shopping automation campaigns to Performance Max campaigns and utilizing Dynamic Search Ads to help cover non-brand search items. 
Transition to Google's Performance Max Campaign Type
eAccountable made the strategic decision to switch from legacy Shopping automation campaigns to Google's new Performance Max campaigns, which optimized their unique and extensive product inventory. 
Making this switch was highly impactful. Not only did it produce remarkable +110% year-to-date (YTD) revenue growth, but the adoption of Performance Max campaigns led to a 3% improved return on ad spend (ROAS).
Expanded Reach & Customer Acquisition
The switch to Performance Max campaigns expanded the client's reach, with 29% of Performance Max sales coming outside of Shopping across top-of-funnel channels like Discovery and Display. 
By not only relying on Shopping Ads through Google, eAccountable was able to diversify the client's sales channels and drive new customer acquisition. 
Leveraging Brand Recall With Text-Ad Search Campaigns
When people can recall your brand, it makes a big difference in their eyes—they're a little more willing to convert.
The science product provider carries many brands like Pocketlab, Biorama, and Perfect Solution that consumers in the science education industry would easily recognize. 
When you're selling these items, you can rely on the name.
That's why eAccountable leveraged strong institutional brand recall by utilizing text-ad search campaigns to drive traffic and sales toward branded products in their inventory.
Utilizing Dynamic Search Ads
For non-branded products, we utilized Dynamic Search Ad campaigns (DSAs). DSAs dynamically generate ad headlines and landing page URLs based on the content of a website, rather than using manually created keywords and ad copy.
Dynamic Search Ads were utilized for the non-branded products as they can automatically connect relevant product information to active search queries from potential consumers.
This made it an effective campaign for the client's extensive non-branded product selection. 
Adaptive Strategies Through COVID-Related Challenges
COVID-related school closures significantly impacted demand for their products from 2020-2022. Under eAccountable's agile management, the client was able to navigate these uncertain circumstances and come out on top, with their 2023 growth exceeding 2019 sales figures. 
While these strategies we implemented were clearly a strong factor in the growth of the client's business, our team at eAccountable couldn't have optimized this SEM channel without the time and effort put forth by their team. Their dedication to maintaining a collaborative partnership allowed us to maximize the potential of their SEM channel. We look forward to continuing to help grow their business as we continue to work together.
About eAccountable
eAccountable is a digital marketing agency headquartered in Denver, Colorado. For more than two decades, online retailers have partnered with us to increase revenue, acquire new customers, and build brand loyalty. Through an integrated omnichannel digital marketing approach, we have helped clients across many industries recognize quick and extremely profitable results.
If you're interested in learning more about how eAccountable can help you optimize your SEM channel and unlock new growth opportunities, drop us a line.