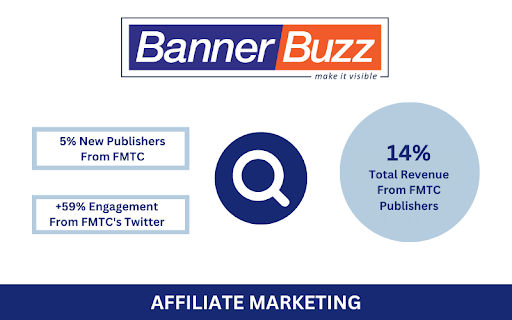 Ever see a customized banner hanging outside of a local business? There's a good chance it was made by BannerBuzz.
BannerBuzz is a leading provider of customized promotional and display materials, catering to businesses, events, and personal needs.
Despite offering an impressive array of high-quality products, BannerBuzz faced challenges maximizing the potential of its affiliate program.
The Challenge
BannerBuzz came to eAccountable looking for a partner to help them boost their affiliate sales and improve their brand recognition.
As a vendor that customizes promotional materials, BannerBuzz has an extensive inventory of products they are looking to push, including:
Banners
Signs
Trade show displays
Decals
Flags
BannerBuzz customizes these products and much, much more.
The quantity and their diverse inventory presented a particular challenge in finding an effective affiliate partner that would help acquire new customers and increase their brand exposure.
Our Solution
Using our extensive network, the affiliate team at eAccountable we formed a strategic partnership with FMTC to tackle BannerBuzz's challenges head-on.
FMTC, which stands for "For Me To Coupon", is a platform that specializes in affiliate marketing services that caters to both merchants and publishers in the affiliate marketing industry.
FMTC helps merchants like BannerBuzz distribute coupons, deals, and special offers to a wide network of affiliate publishers so they can expand their affiliate sales and increase their brand exposure.
Our Results
The results speak for themselves:
New Customer Acquisition
Talk about new customer acquisition. An impressive 14% of their total revenue was attributed to FMTC publishers, creating a whole new audience of revenue for BannerBuzz.
New Publisher Influx
The partnership with FMTC introduced 5% new publishers to BannerBuzz's affiliate program, expanding its reach.
Impactful Deal Alerts on Social Media
Deal Alerts posted on FMTC's Twitter garnered an astounding 59% engagement rate. Additionally, each Deal Alert on FMTC's Facebook reached an average of 26 people, enhancing BannerBuzz's brand visibility.
Spotlight Blog Post
A dedicated blog post created meaningful engagement, with readers spending a total of 5 minutes on the content, reinforcing brand interest.
A Successful Partnership
Through the eAccountable-FMTC partnership, BannerBuzz was not only able to boost sales and acquire new customers but also elevate their brand exposure and engagement. By leveraging FMTC's premium services, BannerBuzz effectively communicated its product offerings to a broader audience.
While these strategies we implemented were clearly a strong factor in the growth of BannerBuzz's business, our team at eAccountable couldn't have optimized this Affiliate channel without the time and effort put forth by the BannerBuzz team. Their dedication to maintaining a collaborative partnership allowed us to maximize the potential of their Affiliate channel. We look forward to continuing to help grow their business as we continue to work together.
About eAccountable
eAccountable is a digital marketing agency headquartered in Denver, Colorado. For more than two decades, online retailers have partnered with us to increase revenue, acquire new customers, and build brand loyalty. Through an integrated omnichannel digital marketing approach, we have helped clients across many industries recognize quick and extremely profitable results.
If you're interested in learning more about how eAccountable can help you maximize your affiliate sales and increase your brand exposure, drop us a line.