It's 2015! There is a lot of special meaning to the number 15 for me this year. It was fifteen years ago this month that I started eAccountable. A lot has happened in that time – in the online marketing space, for the business, and for me personally. Some of the events were unforeseen, some remarkable, and others just a byproduct of the march of time.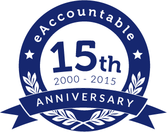 Last month was another time for reflection as my youngest got married. When I started the company she wasn't even a teen. Now she is off to start her journey as a Mrs. with a wonderful man. I have a few more gray hairs. My golf game is still good (although, now I'd be on the super-senior tour). And I'm still hitting the slopes, but currently I'm just as concerned about creating my après ski charcuterie plates as I am about how many runs I can get in.
The online marketing space has seen amazing changes as it matures and technology evolves. I'm proud to be considered a veteran of the industry and to have learned from everything (the good, the bad, the ugly) that has happened along the way.
When I started eAccountable it was to fill a much-needed gap and provide outsourced program management services for those merchants looking to have an affiliate marketing program. Over the years, the business has evolved significantly to become a successful full-service digital agency. The space is highly-competitive, fast-paced and exciting. It's less about filling in the gaps and more about innovation, superior service and taking a holistic look at the marketing landscape. Of course, it's always been about driving results, but now we have better and more sophisticated ways to track those metrics.
For me, being a big picture guy, the challenges are exciting trying to fit together all the pieces together. It's like a puzzle. More times than not, we've had great success for our merchants and in turn, ourselves. But like all other businesses there have been missteps. But we learn from our mistakes, adjust, improve and push forward.
We plan to spend much of this month celebrating our hard-won milestone on social media (and in this blog) with looks back and a peek into the future. Stay tuned.