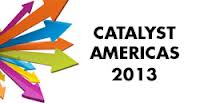 By Durk Price:
At the end of next month I'll be attending Channel Advisor's Catalyst event in Las Vegas.  I've been going to this amazing conference for several years but this year's event promises to be bigger than ever.
It's called The 2013 Catalyst Americas and the agenda features three dedicated tracks, running across 2 days. These are aimed at businesses that are in different stages of ecommerce from just starting out to seasoned pros looking for even more success.
There are also two new one-day events-  AutoCommerce and Pre-conference – which both take place on Monday, April  29, 2013. AutoCommerce is a full-day of sessions focused exclusively on topics for automotive and powersports retailers. Pre-conference offers a full-day of more tactical, workshop-style sessions that will be led by ChannelAdvisor subject matter experts. Both of these sound great – even if I'm not dealing with automotive clients.
Once again, we are a Silver Sponsor of the event. ChannelAdvisor has been a great partner of ours for years and attending their event enables me to meet with their team, network with leading ecommerce executives and take in sessions that expand my knowledge of the overall marketing and ecommerce space.
The thing that is so important to me about these types of events (besides the great golfing) is the chance to get outside of the day-to-day of running my business and think about new ways, innovative ideas, and learn from the successes and missteps of others. I usually come back to the office with a long list of action items for way to help our business grow and foremost to help our clients become even more successful. This is a partnership business and when our clients do well we are genuinely thrilled.
And I would also recommend reading the ChannelAdvisor blog. For me, it's a must-read.