As a digital marketing guy I'm supposed to think print is at best a dinosaur or at worst on life support.
After all, look at how many magazines have struggled (or folded) in the era of new media. I've seen first-hand the damage online advertising and marketing has wreaked on those print publications that were unwilling to make the necessary shift to keep up with the times.
Still, there is something about seeing someone or something mentioned in print that makes me give it just a touch more weight and value. Maybe because it's tangible – people can hold it in their hands, show their families, definitely impress their grandmothers, and hang it on the wall for posterity, if they choose. Somehow having a hard copy makes things seem more legit.
Of course, that is all perception, but it is one that persists – regardless of whether the online community admits it out loud or not.
So, I was like a proud papa when I learned that several of our clients had made it into ShareASale's Fall Catalog. Of course, you can view the catalog online, but if you're like me, it's a treat to receive it in the mail each quarter and see which one of the network's more than 4,000 merchants are featured.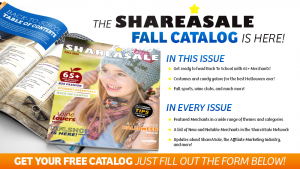 Congratulations to our merchants featured in the latest ShareASale Catalog:
In addition, this issue of the catalog will also be distributed to ShareASale's physical mailing list of US-based subscribers, and distributed at several conferences including:
BlogHer 2015 in NYC in July
Affiliate Summit East in NYC in August
eTail in Boston in August
Type-A Parent in Atlanta in October
That's great exposure for our client's and all others mentioned in the issue. You can sign up here to receive the catalog. The entire roster of catalogs can be viewed here.
ShareASale started doing the catalog in the summer of 2012 and it's been very well received. I'm not sure why other networks haven't followed suit. It's a great idea that allows ShareASale to feature their merchants and affiliates. It can be focused around seasonal themes, verticals, top performers; however they choose to break it out. It gives the network something to hand out at events and it's a great reminder when it arrives in the mail of programs that affiliates might want to start promoting, if they aren't already.
This combination of offline and online marketing is powerful and effective. Kudos to ShareASale Founder and CEO Brian Littleton and his team for the idea, execution and the quality of the publication. It just keeps getting better with each issue.