As a very  active and charter member of the Performance Marketing Association (PMA), I have been involved in fighting the so-called "Affiliate Nexus Tax"  in many states over the last 5 plus years.
These laws, which have been enacted in 9 states, (as well as proposed and shot down in dozens of  others), claim that affiliates constitute nexus (a physical presence in the state) therefore if they earn a commission from a retailer that is out of their state, that retailer must collect sales tax from consumers. Rather than do that, many out of state retailers, simply dropped affiliates in states with those laws. This put thousands of affiliates out of work and cut the income of others significantly.
So, I was thrilled to learn that the Supreme Court could be hearing a case that would decide the issue once and for all, so that affiliates who were dropped by out of state merchants can get re-enrolled in programs and back to work.
The case that is being put forth for consideration by the Supreme Court is Overstock/Amazon vs. The State of New York. New York was the first state to adopt this type of law back in 2008.
The Supreme Court will decide on November 26, 2013 if that is a case they will take on for its upcoming docket of hearings. Typically, the court receives 8,000 to 10,000 petitions for certiorari but only accepts 100-150 cases.
Even with that slim chance I am optimistic the Highest Court in the Land will hear the case. Here's why:
Internet taxation is a big issue, not just for our industry but for consumers.
Recently, the PMA's case vs. The State of Illinois was upheld on appeal stating that the law in Illinois was unconstitutional.
There are federal solutions to this issue  that are being looked at, including a bill from Illinois  senator Dick Durbin.
Many states are desperately seeking revenue that is owed to them from online purchases and since nearly 94 percent of citizens do not remit those taxes on their state income tax return (as they are required by law to do), this would insure the states get that much-needed revenue.
Local retailers and brick and mortar merchants (who collect sales tax on in-state purchases) claim an Internet Tax would level the playing field.
And the US's current economic situation is such that so-called Main Street businesses are struggling, unemployment is high and this issue could be seen as a way to help ease those burdens.
However, one of the biggest challenges of going before the Supreme Court is that it requires vast financial resources to mount a case. While Amazon and Overstock would take on much of the funding burden, the industry as a whole needs to contribute as well since the outcome of this issue has far reaching impact on all of us. This is not just about Amazon and Overstock.
The PMA is continuing its efforts to raise money through its Market Fairness Fund.  Contributions to that fund help ensure that we are able to fight the good fight for the entire performance marketing industry.
You can contribute as little or as much as you can, every dollar counts. You can also become a member of the PMA .Your dues go to help fund such efforts too. Get active, Get involved.
I love that ShareASale is doing its part by selling T-shirts.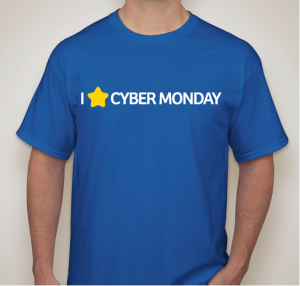 ShareASale CEO Brian Littleton is president of the PMA's Board of Directors and has always stepped up to support this industry. He was instrumental in helping during the affiliate nexus tax fight in Illinois.
So, at the very least buy a T-shirt and wear it proudly!